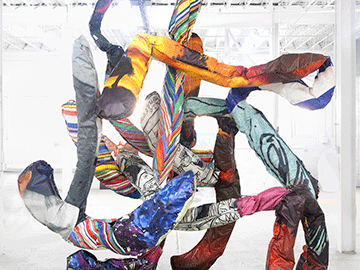 01/23/2023 
SUNY Cortland's Dowd Gallery is inviting people today to arrive out of their pandemic-induced isolation and try to remember how to perform.
"(re)Engage in," a solo show by Brooklyn-centered artist David B. Smith, launches the gallery's spring semester exhibitions with a sequence of recent and re-interpreted material-primarily based sculptures, objects, collages, installations and interactive environments.
The exhibition opened Monday, Jan. 23, and will run by Friday, Feb. 24. Readers will expertise playfully produced fiber environments resembling other-worldly bodies and landscapes that border on abstraction. Smith pushes common arts-and-crafts mediums like textiles, pictures, embroidery, tufting and painting to new territories.
An opening reception and exhibition tour will be held in the gallery from 4:30 to 7:30 p.m. on Thursday, Jan. 26. The gallery is in the Dowd Wonderful Arts Center on the corner of Prospect Terrace and Graham Avenue in Cortland. 
The exhibition is absolutely free and open to the public, as are the opening reception and all exhibition-connected occasions. These include a virtual artist's converse, a gallery walk-as a result of, an artist's workshop, a documentary screening and added live and virtual shows that contribute new perspectives on the show.
Smith noted how, all through the pandemic, people today have been divided from communal areas and misplaced connection to just about every other, to their somatic working experience and the follow of interaction and improvisation.
"By re-introducing my earlier interactive installations, site visitors are inspired to appear out of their shells and rediscover their joy and curiosity," he claimed. "And through presenting my intricate collages, gentle sculptures and photographic weavings, I want to share my vulnerability and creativeness by presenting a visual, communal meeting position for others to explore theirs."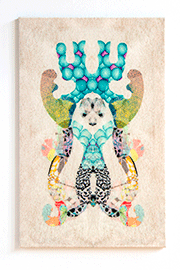 Moreover the suggestions of enjoy, the exhibition gives a conference place involving disciplines this sort of as textile artwork, psychology, biology and gender studies. Objects on show make room for people to discover not only the art but them selves, their steps and intentions.
"The approach of my perform is central to its meaning," Smith mentioned. "I get started by owning emotionally resonant visuals from electronic collective memory woven into a cloth, which I then use to create work composed of beings and phenomena from imagined other worlds."
People can bodily interact with certain items: for example, sliding colorful translucent textile collages along taut wires to change the architecture, light and aesthetic tone of the area.
"By employing these objects to develop ephemeral environments, I invite the viewer to establish a dialogue all around fictional habitats as a way to re-visualize our relation to id, gender, biology, ecology, psychological overall health, difficulty-fixing, memory and the joy of improvisation and participate in," Smith mentioned.
Smith's system of re-decoding narratives and offering what's doable aims to invite viewers into this layered and one of a kind process, most likely sparking them to consider their individual artistic methods, irrespective of whether they be art or in any other self-control.
Accompanying "(re)Play" in the adjacent Hallway Gallery is a show of performs from Smith's previously exhibitions, "Forms of Opportunity."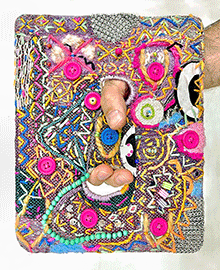 The Dowd Gallery site and social media have detailed data about extra courses to the opening reception and contain on line hyperlink invitations to "(re)Play" digital events. Take a look at the Facebook, Instagram and the Dowd Gallery site. Stay functions are in the gallery unless noted otherwise.
"(re)Engage in functions will contain:
Initially Friday: Friday, Feb. 3. A guided tour of the exhibition has been organized by Cortland Arts Hook up to take area from 5:30 p.m. to 8 p.m. The function will be both of those stay and digital.
Digital artists' speak: Audiences can check with concerns about the artist's creative exercise and inspiration for "(re)Play" all through a virtual occasion on Webex at 5 p.m. on Tuesday, Jan. 31.
Documentary screening: "Threaded," a compilation of shorts, will be introduced at 5 p.m. on Tuesday, Feb. 7.
Gallery Discuss: Erin Morris, a SUNY Cortland affiliate professor in sport management, will examine the intersections of good artwork and sport by way of the lens of gender inequality, in "Between Activity and Artwork: Gender Biases at Engage in," at 5 p.m. on Wednesday, Feb. 8. Morris will study how socially assigned gender roles are bolstered inside of sporting activities and artwork and how we can quite possibly crack down some of all those partitions.
Gallery walkthrough: Smith will give a guided tour from 2 to 2:45 p.m. on Monday, Feb. 13.
Artist's Workshop: Smith will provide a "Communal Weaving" session from 3 to 5:30 p.m. on Wednesday, Feb. 15, in the Dowd Middle Fiber Studio, Room 101. Members may well convey an merchandise of garments or leftover fabric to be reduce into strips and woven into the communal sculpture framework developed by Smith. The operate will utilize fibers, textiles, collage, blended media, sculpture and improvisational weaving, resulting in an interactive element of the "(re)Play" exhibition in which participants are co-creators.
Virtual Gallery Communicate: Katarzyna Zimna, associate professor of art at the Lodz University of Know-how, Poland, will give a virtual dialogue in Teams on "Artist, the Player" at 4:30 p.m. on Tuesday, Feb. 21. This chat explores the preferred idea of play in the art globe, its theoretical context, as very well as its specific manifestations that can be traced in the heritage of artwork.
Documentary Screening: The 2019 film directed by Halina Dyrschka, "Beyond the Obvious: Hilma af Klint," will be screened at 5 p.m. on Thursday, Feb. 23.
Gallery hours are 10 a.m. to 5:30 p.m. Monday by means of Friday with extended hrs right until 7 p.m. on Thursdays, and by appointment. Check out the Dowd Gallery site for aspects about exhibiting artists, other applications, safety protocols and on the web scheduling. For more info or to inquire about an appointment, tour or further pictures, get in touch with Gallery Director Jaroslava Prihodova at 607-753-4216.
"(re)Play" is supported by the Artwork and Artwork History Office, Artwork Exhibition Affiliation and a Campus Artist and Lecture Series grant.
---