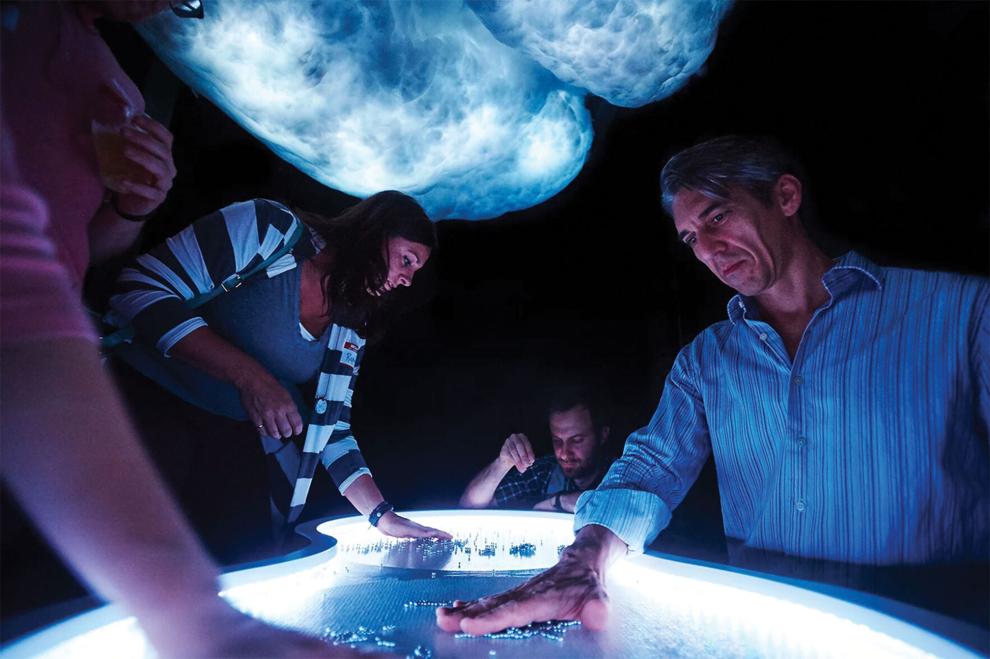 After chaotic vacation happenings that saw seasonal revelry squelched by canceled flights, disrupted gatherings and a surge of hospitalizations owing to the hottest spike of COVID circumstances, Nashville's visual arts group may perhaps be greeting the inaugural Art Crawl situations of 2022 fewer rested and recharged than they had planned. A persisting pandemic is a bummer of a way to start off a new 12 months — again — but as the U.S. health unexpected emergency nears its two-calendar year anniversary in March, I'm hopeful searching forward, since of the resilience, resourcefulness and accountability I see wanting back. Nashville's gallery scene has established to be very adaptable, and whilst we could see some scaled-again receptions and continued indoor masking in art areas, Nashville's winter arts calendar is banging. And this Saturday's January Artwork Crawl is a robust commence for the time.  
South Nashville 
Nashville indigenous Mika Agari proved to be a single of our most ingenious emerging community artists in advance of graduating from Watkins College or university of Artwork in 2016, generating a pair of difficult neighborhood demonstrates and going to New York. Agari staged a mobile sculpture set up in her Nissan Sentra (Automobile Show, 2017) applying materials like felt, rice, stickers from the greeters at Kroger and dead wasps. She also embedded digital tablets in black sand at artist David Onri Anderson's previous curatorial space, the Bijan Ferdowsi Gallery, and encouraged viewers to lounge on a mattress while they watched her performances on movie (Friction Fruit, 2017). In January, Agari's back in Nashville for a show at Anderson's new Do-it-yourself gallery, Electric Drop. Agari is in her ingredient when she's responding to unique areas, combining all-natural and made resources and discovered objects in arrangements of sometimes unexpected combos. Agari's installations can really feel billed with ritual intention, infused with erotic messaging or just splattered with charming, dumb humor. Therefore, we just can't forecast accurately what the artist has in head for her I Bend a Department exhibit, but I know it will be really worth the limited excursion to South Nashville. Observe @electricshedtn on Instagram for updates and details.  
Wedgewood-Houston 
Coop will practically be producing moves this thirty day period as it relocates to a even larger area at The Packing Plant. The inaugural display in these new digs — which had housed Channel to Channel in advance of the gallery moved to Chattanooga — will be a display screen by Louisville, Ky.-dependent artist Shohei Katayama. I dig artwork about artwork, but it is normally refreshing when artists push previous the art historical ouroboros to use aesthetics to look at and incorporate elements and approaches in other much-flung fields. Katayama's apply is mostly worried with how people perceive by themselves and the entire world by the lenses of mother nature, technologies and science. As a final result, Katayama's function touches on everything from physics and sustainability to sociology and cultural record. Coop specializes in bringing checking out artists to Nashville, and as an artist who has designed formidable exhibitions in venues all more than the world, Katayama would make a terrific preference to commence this following chapter for this regional arts establishment.  
The news of Coop's shift will come with a wave of shifting galleries at The Packing Plant: Coop will be using more than the former huge Channel to Channel room, which involves the two facet galleries that Channel to Channel was subletting. Open Gallery will continue to sublet one particular space, and Risology Club will be going into the other aspect gallery. Risology Club is a full-assistance risograph print store and bindery, and they're previously frequent visitors at the Nashville Poetry Library's Show and Sell activities through most To start with Saturdays. It's good to see the club producing a lasting dwelling at The Packing Plant, and knitting the visual artwork and lit communities that acquire at The Packing Plant tighter than ever. 
The previous Coop place will turn out to be a new satellite showcase for South Nashville's Modfellows Artwork Gallery starting in February. This Saturday, the gallery will host Art Can't Appreciate You, a pop-up of new function from Colombia-centered creators arranged by ZieherSmith. Taking part artists involve: Esteban Ocampo Giraldo, Juan Uribe, Nicolas Bonilla Maldonado and Julian Burgos.  
Julia Martin Gallery will welcome artist Andy Ness on Saturday night. Ness' abstract paintings function vibrant combinations of circles and traces — the over-all outcome reads like impractically expressive layout drawing, and maybe which is the position. There is one thing intrinsically irreverent about these compositions of repeating styles and marks rendered with a loose but in no way lazy hand. Ness' The Satellite exhibition is a terrific in shape for the Wedgewood-Houston gallery scene, and I'm predicting this won't be the last we see of Ness' playful, unmistakable do the job.
East Nashville  
Interior/Exterior is a group exhibition at The Purple Arrow Gallery that features get the job done by 50 percent a dozen artists who all identify as female, but make various expressions about gender identity and feminism. These themes can be powerful, but the cause I examine Ashanté Kindle's artist statement about elegance standards and the "culture of hair" is because her stunning monochrome-blue summary paintings are sumptuous feasts of texture and hue. The ubiquity of political, racial and sexual id art can make for fashionable programming, but lots of artists drop the trees for the forest, crafting wide works with major messages, but lacking intense, personal signatures. Get the job done about identification that however manages to be unique to an personal normally stands out. See Lauren Gregory's "Ol' Splashy" animated video, or Tess Davies' exquisitely flat-surfaced Hermetic interiors as examples. This present at Crimson Arrow also consists of get the job done by Dana Oldfather, Reneesha McCoy, and Annie Brito Hodgin.