Painting a canvas is one thing. Painting a human canvas something else entirely.
There is much to admire about an artist who can translate their eye for beauty, color and imagery from the easel to the skin. Many tattoo artists have made art from the moment they could pick up a pencil or paintbrush. But then something happens when they get their first tattoo. Bewitched by the process, they take their artistic talent and channel it into a new realm of creativity.
That doesn't mean they leave their love for visual art behind. Instead, they fill the walls of their tattoo shops and homes with work, often heading to the canvas first thing in the morning or perching there into the night, after sketching out tattoos for their clients the next day. Art is a fixation, and one that never ceases.
Maria Fetterhoff, owner and founder of Glory Badges Tattoo
In Maria Fetterhoff's world, hands become bird wings and braids morph into snakes.
The tattooist and painter is entranced by the alchemy of transforming one object into another. And if someone were to call her work "creepy pretty?" That oxymoron of a compliment would glow her up.
"I like to pair things that juxtapose each other in nature. Something that would be considered beautiful, like a braid, and something considered dangerous, like a snake," said the owner and founder of Glory Badges Tattoo. "How do I make it flow together in a way that's beautiful?"
Standing amid "Molten," her exhibit at the new Garfield Art Gallery, on the bottom level of the old Garfield School, which is now Community Prep School, her predilections are apparent. As is her love of bold color and bold lines, and her fascination with Byzantine iconography, which stems from being raised Catholic and attending an Eastern Orthodox church in Los Angeles.
The show's largest piece, "Cursed My Name," exemplifies Fetterhoff's obsessions, with its imagery of females with holes in their wombs and hearts and a vulture with a human hand. The genesis of the painting began with the idea of something we take for granted — our names — and the role it plays in our identity. After a divorce, she thought about society's expectations of her as a woman and mother, and considered the significance of her name, Maria, and how it often brought to mind Mary, the mother of Jesus, an archetype of unreachable perfection.
"The vulture has a human hand, because it's usually a human that's trying to take advantage of you," Fetterhoff said. "It's willing to live off those parts of you that you're willing to let die because you're trying so hard to be a perfect mom, perfect wife, perfect anything."
From a young age, Fetterhoff assumed she'd grow up to be a fine artist, but at 17, she accompanied a friend to get a tattoo and thought: "I could totally do that. I said, 'How much would you charge me to teach me how to use that tool?'"
It was the late '90s, before tattoos were lauded on reality TV shows and glamorized in pop culture. This was the era of the questionable tattoo shop, where mostly men got them and did them. But Fetterhoff wasn't deterred. She talked her way into an apprenticeship with an old biker guy across the street from a biker bar.
"I had grown up in a gritty place, so it was like getting thrown to the wolves," she said. "Tattooing was like a magic show. They didn't want to teach many people behind-the-scenes stuff, because they thought they were creating competition. It was this boys' club and a secretive club."
After moving to Colorado Springs in 1999, she quickly found herself disillusioned by the business. Nobody would hire a woman, because they couldn't work by themselves until 2 a.m. But she scored an opportunity to work for the female owner of a tattoo shop and found mentors along the way.
In 2003, she opened her own shop on East Platte Avenue, where she also hangs her work. She credits her success to staying diligent at practicing her art, as well as supportive parents who never told her to have a backup plan.
"My dad said to me every single thing you see has been drawn by someone," Fetterhoff said. "Someone drew that lamp. They have to be drawn before they're manufactured. Don't you dare let someone tell you drawing isn't something that's got value."
Aaron Moore, artist at West Side Tattoo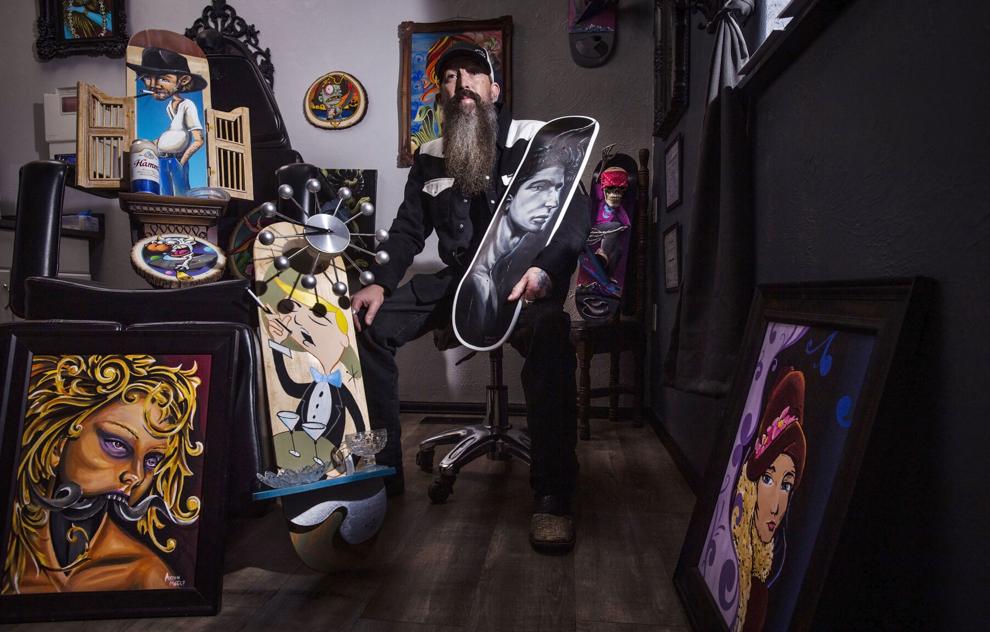 Much inspiration can be found while walking the alleys of the west side.
That's where Aaron Moore regularly finds scraps that send images racing through his creative brain. Like the one time he found small glass balls with holes in them and was reminded of a retro, disco object reminiscent of the old animated TV sitcom "The Jetsons." He hung them from an old skateboard, painted a "Jetsons"-like female image on the top side of the board, added a wall sconce and a dish for car keys, and presto! Skateboard art. The unnamed piece, along with other skateboard creations, hang on walls near his tattoo station at West Side Tattoo.
The Coronado High School graduate has been tattooing for 23 years, ever since he and a buddy were hit head-on by a drunken driver in 1999. He wasn't supposed to make it, but, "one door closes, and another one opens," he said.
"Something so negative turned into one of the most beautiful parts of my life."
Tattooing had always appealed to him, and during his recovery from the accident, he found an apprenticeship at a shop in town. There were about a half-dozen places in those days. Today, he estimates that number hovers around 200.
"Back then, you almost had to be born into it," Moore said. "It was handed down generation to generation for the most part. It was a very different world."
These days, Moore is painting a series of quirky animals on plate-sized wood pieces he buys from Hobby Lobby. There's a raccoon pirate, zombie pirate, mystical jackelope and a cow flying a UFO. He's giving them to friends and family, but probably will sell them at some point.
"My stuff's kind of fun, creepy but cute," Moore said. "You look at Tim Burton's stuff, or even darker, like H.R. Giger. He's an amazing artist, but his stuff is dark. A lot of people see the beauty in that. I've always had a little bit of that."
And now that his daughter's grown and gone, he's feeling the urge to back away a bit from tattooing to pursue art and other adventures, such as meandering road trips with no destination. Tattooing's also been pretty rough on his neck and back, after decades spent hunching over bodies.
"Everything's an inspiration when you're an artist," Moore said. "You might catch me daydreaming, and I'm just catching how the light hits a tree or a light post, or how a child's shadow bounces off something. You're always collecting ideas."
Karen Knight, owner and founder of Heebee Jeebee Tattoos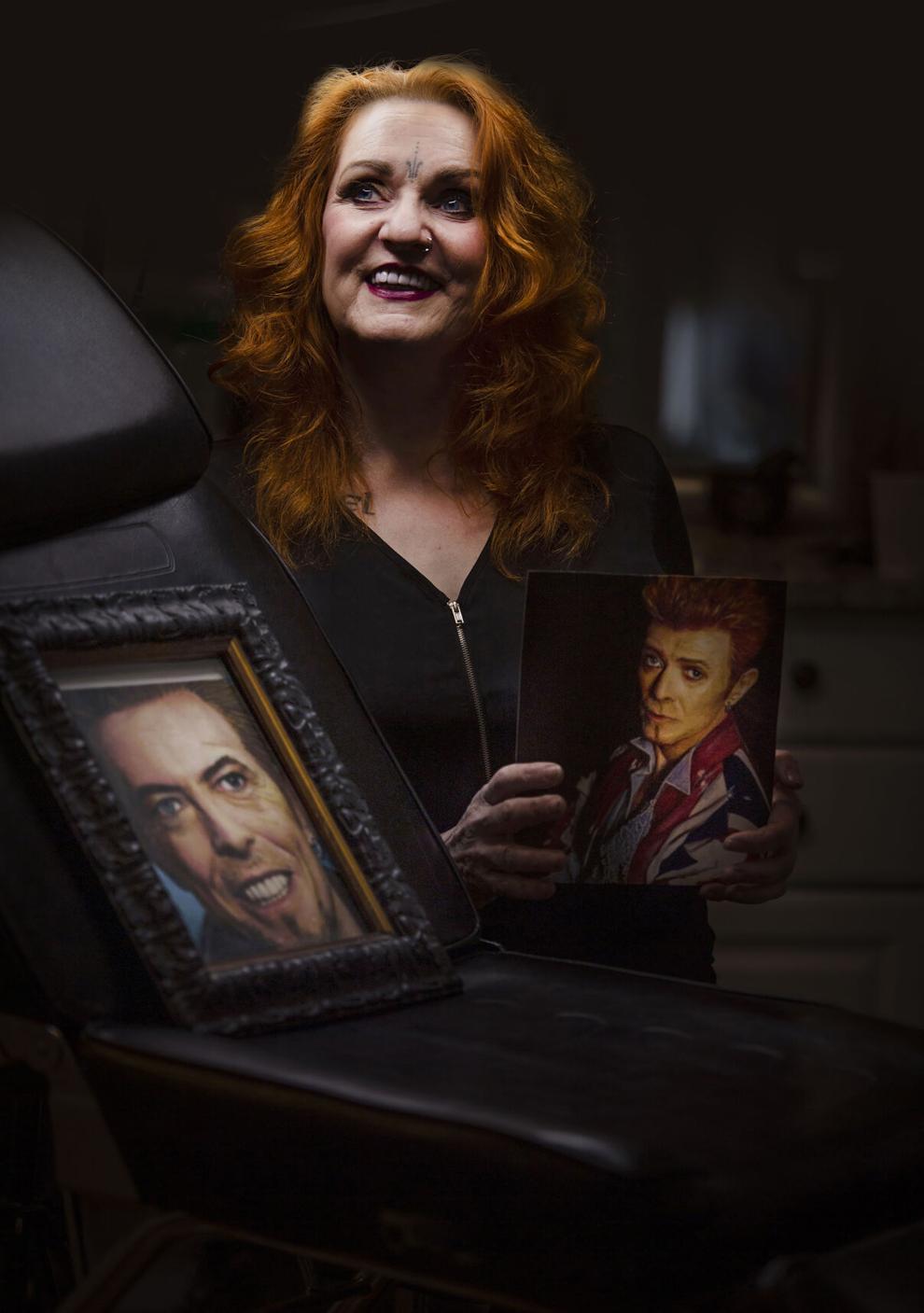 Making art is a ritual for Karen Knight, a lifelong artist from Liverpool, England.
Every evening, after getting home from her shop, Heebee Jeebee Tattoos, and walking her beloved rescue dog, she settles in to paint, getting so lost in the work that sometimes she looks up to find it's 4 a.m. Her paintings, drawings and sculpture fill her home and have spilled over onto the walls of her shop, which could easily be mistaken for a gallery. She's had one solo show in the Springs, at 503W a few years ago, and been part of a few shows at the now-defunct Modbo.
Knight landed in town courtesy of a former husband, and stayed. It was here that she strolled by a tattoo shop and thought, "Should I? Yes, why not?" That seemingly small decision changed everything.
"I watched what he was doing and was fascinated," Knight remembered about getting inked. "How on earth does he manage to do that in skin?"
Because she had her aesthetician's license and did permanent makeup, she was well-versed in making marks on bodies. A mentor helped her learn the art form of tattooing, and she eventually opened her own shop in 1993.
Though that was her entry point into the business, that's no longer what she does. What brings her fulfillment now is medical tattooing, including scar cover-up, recoloring skin to match the discoloration of vitiligo patches, and her main focus — repigmentation for breast cancer survivors.
It's especially near to her heart after being a breast cancer survivor for 25 years.
"After having breast cancer and surviving it, you don't have the area and the nipple," she said. "It's just a lump — Barbie boobs. After tattooing that, when you get out of the shower and you look and see breasts, it's amazing. It's a mental thing."
Plastic surgeons in the Springs, Denver and surrounding states refer their patients to Knight.
"I had somebody pay me the best compliment," she said. "She told me she was intimate with her husband for the first time since she had reconstruction done without wearing a bra. She felt comfortable enough."
Fred Legarda, owner and founder of Self Made Tattoo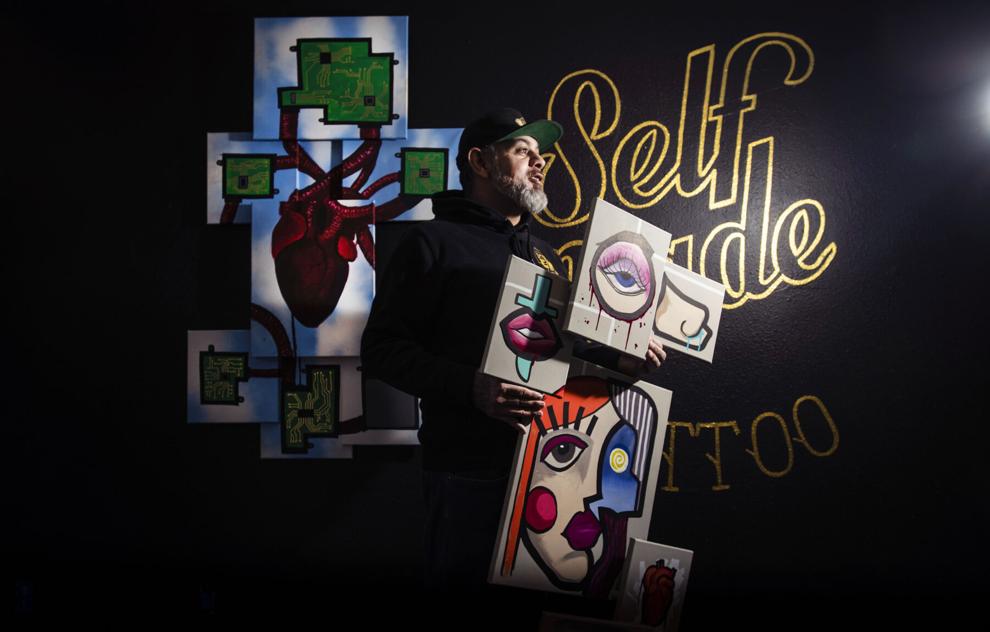 A cerulean blue portrait of Marilyn Monroe pops out of the landscape of Fred Legarda's tattoo shop, Self Made Tattoo, on the city's east side.
He's known for his big, bold-colored tattoos, as well as black and gray work, which clearly translates into the self-described "lowbrow pop art" he likes to make on the side. He'd like to do more of that abstract art on human canvases, but it can take time for a style to catch on.
The Monroe piece, which he painted more than a decade ago, is one of his only pieces that remains unsold. His other works, though, disappear almost as quickly as he can make them. They find their ways into the hands of collectors, who stop by the shop periodically. Others hear about him through word of mouth, gravitating toward his monster art, with images such as Frankenstein, or his "Star Wars" works.
Making art, in addition to doing tattoos, is a daily requirement for Legarda, who's been painting since high school in New Mexico.
"It's an escape," he said. "I don't have to think about current events or daily problems or adult things. I'm just pushing paint around."
After moving to the Springs in 2000, in addition to his painting, he also pinstriped and painted cars. A buddy who owned a tattoo shop tried to get him into the business, but he brushed it off, until he finally gave in around 2007. Seven years later, he opened his own shop.
"It's been so good to me. Tattooing has given me everything I could have wanted out of life and then some," Legarda said. "It's given me freedom of all kinds. Recognition as an artist, good self-esteem, confidence."
Tattooing isn't only a creative outlet. Legarda also can see how it boosts the self-esteem of his clients.
"There have been people who are subdued and almost afraid, and they come and get their favorite animé character as a half-sleeve," he said.
"The next time they come in they're sticking out their chests a little more and standing upright and looking you in the eye and talking louder. That's what I like."
Contact the writer: 636-0270