---

Going out: Cinema
Golda
Out now
Starring Helen Mirren as Israeli prime minister Golda Meir, this biopic from Guy Nattiv focuses on Meir's premiership during the Yom Kippur war in the 1970s. Also featuring Liev Schreiber as Henry Kissinger.
BlackBerry
Out now
Comedy-drama channelling the likes of The Social Network, only it's the slightly goofier inventors of the BlackBerry handheld device whose rise and fall is here to make the rest of us glad we aren't tech bros, however much money they end up making. Starring Glenn Howerton (It's Always Sunny in Philadelphia) and Jay Baruchel (Knocked Up).
The Exorcist: Believer
Out now
As the band Journey so memorably advised us, don't stop believin', because if you didn't think you were gonna see Ellen Burstyn reprise her famous role as the ultimate worried mother in The Exorcist any time soon, have a little faith: she's back, and so are the demons. This time, that means two little girls showcasing a vocabulary beyond their years.
The Great Escaper
Out now
Everyone has something they would attempt a jailbreak for. Second world war veteran Bernard Jordan's motivation for escaping from his nursing home was attending the 70th anniversary D-day commemorations in France in 2014 – thereby providing the perfect based-on-a-true-story starring role for Michael Caine. Catherine Bray
---
Going out: Gigs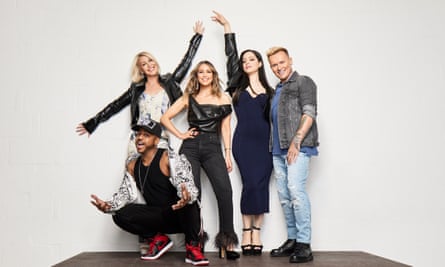 S Club
12 to 29 October; tour starts Manchester
Now a five-piece following the tragic death of Paul Cattermole and the departure of Hannah Spearritt, 00s pop rabble S Club celebrate their 25th anniversary with this arena tour. Expect a sugar high thanks to enduring bops Reach and Don't Stop Movin', plus unexpected pathos as they pay tribute to their late bandmate Cattermole. Michael Cragg
Blink-182
11 to 16 October; tour starts London
The pop-punkers, now reunited with guitarist-vocalist Tom DeLonge, head out on tour in support of forthcoming album, One More Time … While the title track is a sombre, acoustic-led ballad, More Than You Know should slot in nicely alongside the more full-blooded stuff on the setlist. MC
Andrew McCormack
Birmingham Conservatoire, 12 October; Lighthouse, Poole, 13 October; touring to 31 October
UK pianist Andrew McCormack covers many bases, from prog-jazz to postbop and commissions for the LSO, but 2022's Terra Firma reaffirmed how deep his jazz roots. His fine acoustic trio play here, with some gigs adding powerful Coltranesque saxophonist Denys Baptiste. John Fordham
Royal Northern Sinfonia
The Glasshouse, Gateshead, 13 October
Violinist Maria Włoszczowska, the Royal Northern Sinfonia's newly appointed artistic director, takes charge of a programme with Mozart's great Sinfonia Concertante K364 as its centrepiece, joined by Lera Auerbach's Pergolesi-based Sogno di Stabat Mater, and Mahler's string-orchestra arrangement of Schubert's D minor string quartet, Death and the Maiden. Andrew Clements
---
Going out: Stage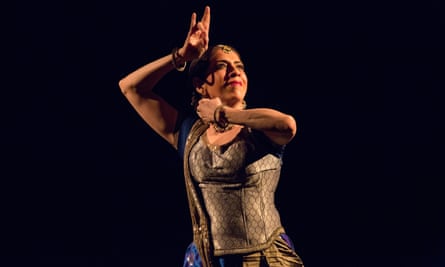 Aditi Mangaldas: Forbidden
Sadler's Wells, London, 13 to 14 October
Sixty-three-year-old Indian kathak dancer and choreographer Aditi Mangaldas can still hold an audience in her palm and is unafraid of tackling powerful subjects. The solo Forbidden asks why women's bodies and desires are repressed, controlled and punished in cultures all over the world. Tours to Newcastle after the London shows. Lyndsey Winship
The Lovely Boys & Friends
Moth Club, London, 12 October
"Northern freaks" Joe Kent-Walters and Mikey Bligh-Smith bring their meticulously weird, monthly cabaret night in Leeds. Now the sketch duo are bringing their strange clown-adjacent cabaret to the capital, with pals including Luke Rollason, Pravanya Pillay and puppeteer Freddie Hayes along for the ride. Rachel Aroesti
Dear England
Prince Edward theatre, London, 9 October to 13 January
James Graham's uplifting take on the travails of the England national football team scored big at the National Theatre. This West End transfer sees Joseph Fiennes reprise the role of Gareth Southgate as he leads the lads through their wins and losses. Feel-good fare with the added nail-biting drama of penalty kicks. Arifa Akbar
The Score
Theatre Royal Bath, 12 to 28 October
Brian Cox may be best known as Succession's megalomaniac patriarch but here he returns to the stage with a turn as German composer Johann Sebastian Bach, in Oliver Cotton's biographical play about Bach's relationship with the difficult, dangerous Prussian King Frederick II. AA
Going out: Art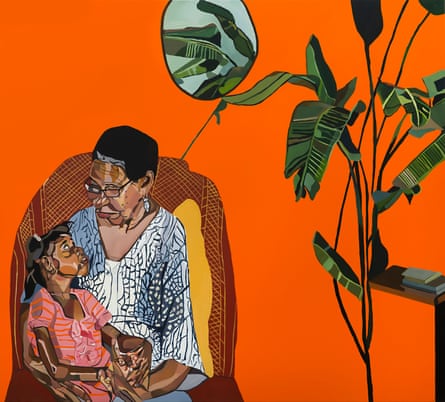 Real Families: Stories of Change
The Fitzwilliam Museum, Cambridge, to 7 January
An experiment in social reporting that brings together radical academic analysis of the 21st-century family with some of the boldest and most intimate modern art. Tracey Emin, Joy Labinjo and Paula Rego paint and document their lives up close while Lucian Freud sees close relations with terrifying objectivity.
Claudette Johnson
The Courtauld Gallery, London, to 14 January
Powerfully observed portraits and studies of the human figure that also take an ironic and challenging view of art history. Realist portrayals of Black women today contrast with cliches in works such as Standing Figure With African Masks. Johnson's acute awareness of art's pasts makes her a natural for the Courtauld.
Nengi Omuku
Hastings Contemporary, 7 October to 3 March
Dreamlike paintings of nature from an artist based in Lagos who is also a florist and gardener. Omuku trained in Britain but this is the Nigerian visionary's first big UK exhibition. Her pastoral idylls are painted on the traditional Nigerian fabric sanyan, and include an epic new work called, simply, Eden.
Georg Baselitz
Serpentine South Gallery, London, to 7 January
Raw wooden carvings by one of the most powerful artists to emerge from Germany after 1945. Since the early 1960s, Baselitz has been pummelling and inverting the human figure. His acute sense of our existential human plight has intensified with age. These sculptures from a decade ago show him on a roll. Jonathan Jones
---

Staying in: Streaming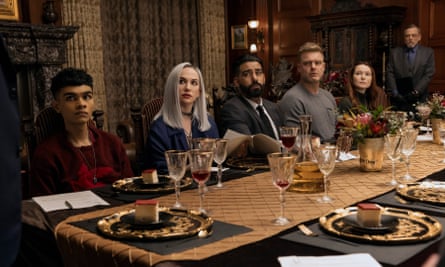 Fall of the House of Usher
Netflix, 12 October
More horror – this time of the blood-and-jump-scare variety – as Mike Flanagan, creator of The Haunting of Hill House, loosely adapts Edgar Allan Poe's short story for the streaming age. This version (above) centres on a CEO of a dodgy pharmaceutical company, whose family begin to bear the bloody brunt of his immoral activities.
Lessons in Chemistry
Apple TV+, 13 October
Bonnie Garmus's 2022 novel about a 1960s chemist turned TV presenter who sneaks teachings about science into her housewife-friendly cookery programme was a rare kind of literary sensation. This prompt adaptation is set to capitalise on the book's success, with Oscar-winner Brie Larson in the role of the unfairly sidelined but unwaveringly determined Elizabeth Zott.
The Reckoning
BBC One & iPlayer, 9 October, 9pm
The most controversial drama of the year finally arrives, three years after it was first announced. Starring Steve Coogan as Jimmy Savile, The Reckoning revisits the presenter's heinous crimes. Could this provide a moment of national catharsis? Or will it end up a nauseating attempt to mine trauma for content?
Frasier
Paramount+, 13 October
Everyone's favourite Seattle-based snob returns after two decades away in this reboot of the classic comfort-blanket sitcom. But don't expect to see the old gang back together: having returned to Boston to reconnect with his son, Kelsey Grammer's titular psychiatrist has a new sparring partner in the form of posh professor pal Alan (Nicholas Lyndhurst). RA
---
Staying in: Games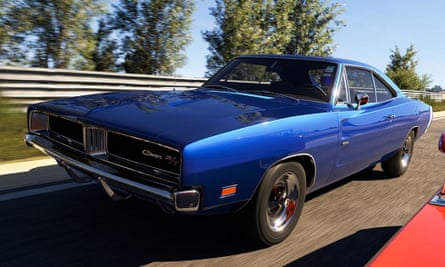 Forza Motorsport
Out 10 October, PC, Xbox Series X/S
The long-running racing sim has been rather overshadowed by its Forza Horizon spin-off, but this hugely upgraded model (above) should bring the original back into contention. With more than 500 cars and 800 upgrade options, as well as advanced handling and intricate visuals, it's one serious ride.
Total War: Pharaoh
Out 11 October, PC
Pitching a golden age Egyptian empire against the Canaanites and the Hittites, the latest title in the acclaimed battle strategy series has all the ancient weapons and tactics you could hope for, with the added feature of huge Biblical storms to contend with. Developer Creative Assembly is a master at matching historical accuracy with engrossing action, and this will surely be another fine example. Keith Stuart
---
Staying in: Albums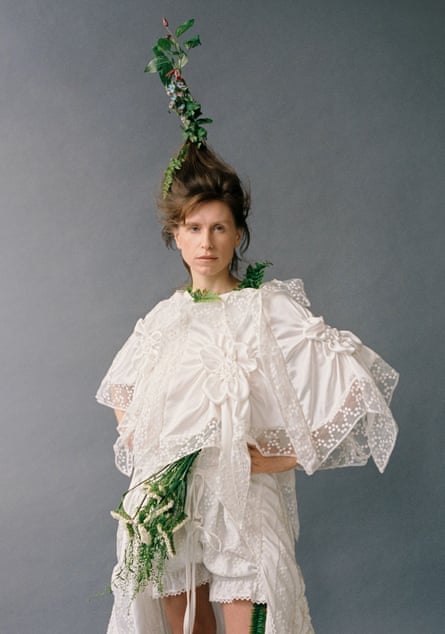 Sufjan Stevens – Javelin
Out now
After a string of experimental projects, Stevens (above) returns to full singer-songwriter mode on this 10th album. Featuring additional guitar from the National's Bryce Dessner, and a small choir that elevates singles So You Are Tired and Will Anybody Ever Love Me?, it's autumn's perfect soundtrack.
Dorian Electra – Fanfare
Out now
The Texas art-pop provocateur returns with this follow-up to 2020's similarly bonkers My Agenda. Exploring the parasocial relationship between fans and pop idols, Fanfare is packed full of WTF moments, from the pummelling industrial-synth freakout Sodom & Gomorrah to recent single Puppet's skewed take on classical music.
Hannah Diamond – Perfect Picture
Out now
Never one to rush, pop star Hannah Diamond follows up 2019's similarly long-in-the-making Reflections with this second album. Produced by Scritti Politti keyboard whiz David Gamson, with additional contributions from AG Cook and Kesha, Perfect Picture explores artifice and reality via 12 shiny slithers of buffed-up electropop.
Glasser – Crux
Out now
On her first album in a decade, Cameron Mesirow, AKA Glasser, contorts her already pretty extraordinary voice into new shapes. Influenced by the Balkan style of singing she studied during her hiatus, songs such as Easy and Drift gently blossom into high-wire vocal exercises, supported by skittering electronics and nods at folk. MC
---
Staying in: Brain food

Notes on Loving
Podcast
Curator Aliyah Hasinah's new series takes a leaf from bell hooks's book All About Love: New Visions in exploring the everyday aspects of love. From loving knowledge to loving the process of creating, Hasinah hosts absorbing conversations with academics and artists.
Dialectsarchive.com
Online
This archive of English language dialects and accents from around the world isn't just an invaluable resource for actors but its oral histories section is also a fascinating glimpse into real-life stories from Suffolk to Cuba.
First Ladies of Hip Hop
BBC Two, Saturday , 9.35pm
With hip-hop currently celebrating its 50th anniversary, this three-part series examines the often overlooked contribution of its female artists. Insights into the early successes and struggles of MCs such as Debbie D and the Mercedes Ladies are eye-opening. Ammar Kalia