Every Sunday, we bring together a collection of easy-reading articles from analytical to how-to to photo features in no particular order that did not make our regular daily coverage. Enjoy!
---
HBO Film Tells the Story of How Gordon Parks Changed Photography – The Guardian
Gordon Parks, a groundbreaking photographer who died in 2006, is the subject of A Choice of Weapons: Inspired by Gordon Parks, a new HBO film by documentary filmmaker John Maggio.
From The Guardian:
In 1956, as the first Black staff photographer of Life magazine [worked for 20 years], he [Parks] traveled in and around Mobile, Alabama, on assignment to capture the realities of Jim Crow. He chose to shoot in color, aiming his lens at both the more vibrant and quotidian moments of Black American daily life: the church picnic, the trip to the ice cream shop, the hanging of laundry out to dry…

Aside from the mastery of Parks's composition, each image had also captured prodding, daily indignities in minute but poignant detail – a young Black woman and her niece standing in their finest clothes, for example, standing below the blaring red neon of a "colored entrance" sign.
Embed from Getty Images
Maggio's documentary moves through Parks's rich photo essays on a Harlem gang leader, the segregated South, Muhammad Ali, and a boy in a Rio de Janeiro favela, as well as bold early work on Ella Watson, a janitor at the Farm Security Administration. A line is drawn from Parks's legacy to the cultural narratives being charted by the current photographers Devin Allen and LaToya Ruby Frazier. – The New York Times
Read also: How Self-Taught Photographer Gordon Parks Became a Master Storytellers
---
Annie Leibovitz's Enchanting New Book Showcases an Artist Who Changed Fashion Photography Forever — Vogue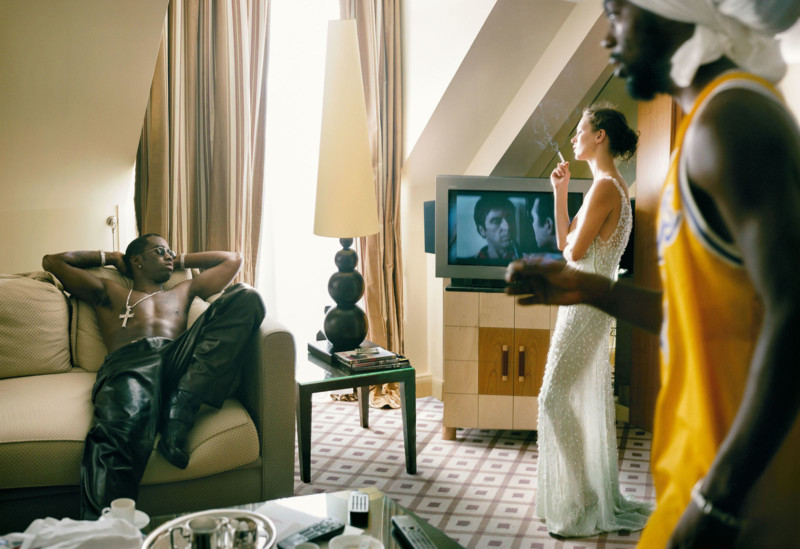 In 1999, Vogue sent Annie to Paris to cover the couture collections for the first time—and surprised her by casting Sean Combs [then known as Puff Daddy] alongside Kate Moss (above). "The shoot was a cross-cultural straddling of two worlds: rap culture and high fashion," the photographer writes in Wonderland [containing 341 images]. "And, of course, they weren't all that different."
From The New York Times
Annie Leibovitz would like to make one thing clear upfront: She is not a fashion photographer. Given that her new book, Wonderland, is an anthology of fashion images shot mainly for Vogue, that's curious.

"Fashion wasn't anything I wanted to be involved with," she says. Yet the visually arresting images in Wonderland, her new book and collection, may be her strongest work.
Wonderland by Annie Leibovitz is published by Phaidon.
---
Robert Frank's Seminal Photo Series The Americans to be Reissued After $1M Grant – The Art Newspaper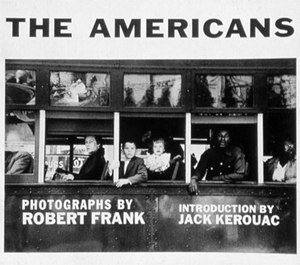 The Americans by photographer Robert Frank will be republished in 2024 by Aperture on the Centennial of Frank's birth.
Frank (1924 – 2019), who was born in Switzerland, took a road trip across America over many years after receiving a Guggenheim Grant in 1954. This body of work was published as The Americans in 1958.
"Robert Frank helped us see ourselves more clearly and critically," Sarah Meister, the former photography curator at MoMA New York, who took over as Aperture's executive director, tells The Art Newspaper. "This new edition will respect and honor that."
"Photographers from successive generations, from Garry Winogrand and Lee Friedlander to Bruce Davidson and onto a new generation of photographers today, among them Khalik Allah, Hannah Price and Colby Deal, all pay homage to Frank's conceptual creation of street photography."
Frank's journey was not without incident. He later recalled the anti-Semitism to which he was subject in a small Arkansas town. "I remember the guy [policeman] took me into the police station, and he sat there and put his feet on the table. It came out that I was Jewish because I had a letter from the Guggenheim Foundation. They really were primitive." He was told by the sheriff, "Well, we have to get somebody who speaks Yiddish."… "They wanted to make a thing out of it. It was the only time it happened on the trip. They put me in jail. It was scary. Nobody knew where I was." Elsewhere in the South, he was told by a sheriff that he had "an hour to leave town." Those incidents may have contributed to the dark view of America found in the work — Wikipedia
---
Wedding Photography to Do List (According to 200 Photographers) – SLR Lounge
SLR Lounge polled over 200 photographers to find the following eight tasks to be the most important for prepping for the ceremony.
Sync your cameras/beginning of the day (26%).
Communicate team positions (diagram above) (16%).
Check out the link above for more tips and details.
---
Photographer Bob Gruen Gets Candid – the Village Voice
The Queens club [Honka Monka] was not necessarily a household name, but it did host Ike and Tina Turner on July 8, 1970, and photographer Bob Gruen, now 76, one of the best-known rock photographers, had a stellar view.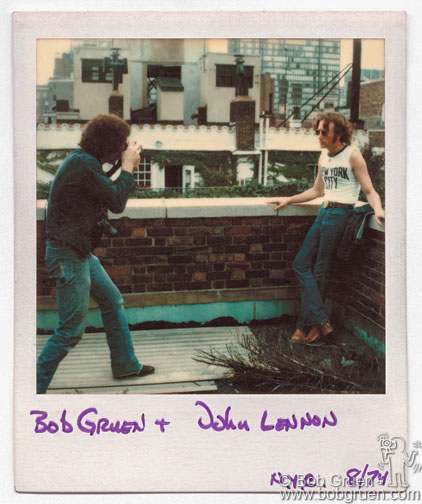 From the Village Voice:
In Right Place, Right Time, he [Gruen] describes the gig: "I couldn't take my eyes off her—she was like a whirling tornado," he remembers of Tina. "I raised my camera, but I didn't know where to focus. I didn't know what the exposure would be. I didn't know when the timing would be right. All I could see were flashes of her in the strobe. Thinking fast, I decided to see what would happen if I opened the camera up to a one-second exposure and let the strobe flashes expose the film—and I got one of the best pictures (above, first pic) I've ever taken."

In his book, Gruen describes the resultant picture as "five Tinas in the frame, trailing streamers of light." The dynamic image opened doors for the young photographer.
Also, Interview: Photographer Bob Gruen – Celebrity Access
---
ZEISS Celebrates 175th Anniversary: 175 Years of Innovation, Passion and the Courage to Develop – Imaging Insider
175 years ago, on 17 November 1846, young mechanic Carl Zeiss opened his workshop for precision mechanics and optics in Jena, thus laying the foundation for what would become ZEISS.
Today with over 35,000 employees, ZEISS operates in almost 50 countries worldwide, with around 60 sales and service companies, 30 production sites and 27 development sites.
Read also: Video: Fascinating 'Lens Design 101' Interview with a ZEISS Master
---
The Unforgotten: the Vogue Photo Festival – in Pictures – The Guardian
For its 6th edition, titled Reframing History, the PhotoVogue festival features projects incorporating an alternative and different way of telling a tale. The annual photography festival invites artists to reclaim overlooked or marginalized histories, from the Bolivian Andes to Africa and beyond
PhotoVogue celebrates its 10th anniversary with a video that features over 500 photographs. As of today, it counts over 257,000 photographers and over 700,000 photographs from 210 countries. Curated by Vogue Italia's photo editors, PhotoVogue offers an internationally diverse database of the most interesting voices in contemporary photography.
Photo Vogue Festival 2021 is free to view online with an exhibition at BASE Milano
---
Remembering British Photojournalist Tom Stoddart, Dead at 68 – Amateur Photographer
Embed from Getty Images
One of the finest documentary photographers and photojournalists the UK has ever produced,
Tom Stoddart
died at 68 after a brave struggle with cancer.
From Amateur Photographer:
Tom began his photographic career in local newspapers in his beloved North East before moving to London and building a solid reputation as a photojournalist, most notably for his coverage of Desert Storm. He really made his name, however, with his images from the frontline of the civil war in the former Yugoslavia (he was seriously injured by Serbian artillery while covering the siege of Sarajevo in 1992).

His image of Meliha Varešanović (Tom holds the photo above), striding defiantly down "sniper alley" in the city, is now the stuff of legend.
---
On the Anniversary of His Death, Revisiting Photographer Peter Lindbergh's Final Project, Untold Stories – Vogue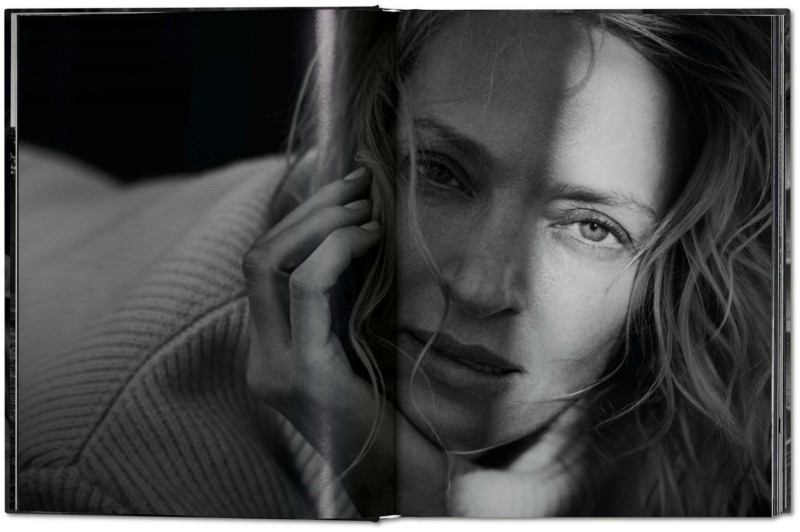 Photographer Peter Lindberg (1944-2019) self-curated his first exhibition just two years before his death selecting 140 images from the early 1980s to 2010. It featured unseen images of legendary supermodels such as Claudia Schiffer, Karen Elson and Milla Jovovich.
Lindberg documented the rise of the 1990s supermodels such as Linda Evangelista, Naomi Campbell and Cindy Crawford.
"He photographed Anna Wintour's first Vogue cover in November 1988—a now-infamous image of Israeli model Michaela Bercu, wearing a bejeweled Christian Lacroix top," writes Vogue. "In what would be one of his final projects, Lindbergh was chosen by guest editor Meghan, the Duchess of Sussex, to shoot the cover of British Vogue in September 2019."
Peter Lindbergh. Untold Stories is published by Taschen
Read also: Peter Lindbergh, Fashion Photography Icon, Has Died at Age 74
---
Irving Penn's 'Girl Behind Bottle' Sells for $210,000 at Paris Photo — Ocula
Read also: Irving Penn's Timeless Photography and 'Photographism'
---
STOP Shooting at Apertures Smaller than f/11
Why? Watch the Diffraction Tutorial from Matt Granger:
---
Lady Gaga Calls Out Photographer for Making Al Pacino Remove Sunglasses on House of Gucci Red Carpet – The Independent
Embed from Getty Images
From
The Independent
Lady Gaga called out a photographer for ordering Al Pacino to remove his sunglasses.

The pair were having photos taken alongside Jared Leto at the premiere of their new film House of Gucci.

In a video shared by Entertainment Tonight, one particularly confident photographer could be heard shouting: "Take off your glasses, Al!"

Pacino, smiling, removed his sunglasses. However, Gaga replied: "Don't make him take his glasses off – he's Al Pacino!"

Leto then urged him to put them back on, which he did.
Embed from Getty Images
---
Why Apple Changed its Mind on Right to Repair — Engadget
From Engadget:
Apple does not have a good track record in terms of letting customers repair their hardware. The last decade-plus has seen Apple's computers become essentially impossible for users to service or upgrade, and the iPhone has always been a locked box…

So Apple's announcement earlier this week that it would start selling parts and tools directly to consumers and offer repair guides was a huge surprise and a move immediately hailed as a victory by right-to-repair activists…

Nathan Proctor, a senior Right to Repair campaign director at Public Interest Research Groups (PIRG), told Engadget in an email exchange that he thinks "combined pressure from consumers, regulators and shareholders has shifted Apple's thinking."
Read also: Apple's New Program Will Let You Repair iPhones and Macs Yourself
---
Photo of the Week
Embed from Getty Images
School Kids in Glass Cubicles in the Philippines
After almost two years of the COVID-19 shutdown, the Philippines resumed limited face-to-face classes in 100 schools across the country this week on November 15. The Philippines is the last country in the world to reopen schools.
---
Quiz of the Week
1.) A tilted horizon is called the
a.) French angle
b.) Kodak angle as the original Brownie was difficult to level
c.) Dutch angle
2.) Nikon made an F-mount 1000mm f/6.3 lens circa 1959. This lens was relatively short in length for its large focal length and the design was called
a.) Catadioptric lens (CAT)
b.) Reflex lens
c.) Mirror lens
3.) In the Sunny 16 rule which was popular before light meters were built into film cameras, the aperture was set to f/16 on a sunny day. How was the shutter speed selected?
Answers
1.) (c.) Dutch angle
2.) All three are correct and mean the same thing for the Nikon 1000mm f/6.3
3.) It was the reciprocal of the ISO film speed, i.e., 100 ISO would be 1/100 sec. (or 1/125 sec) and 400 ISO would be 1/400 sec. (or 1/500 sec)
---
Why I Like This Photo – Josh Edelson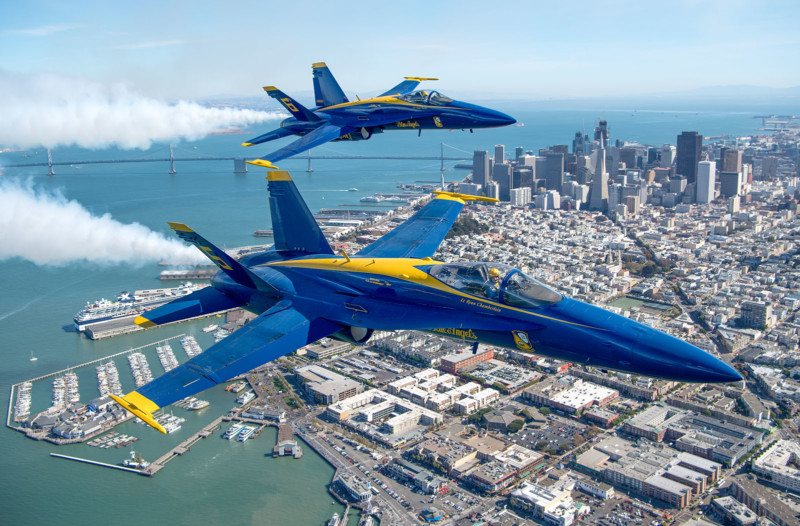 While on assignment for Agence France-Presse (AFP), I had coordinated to photograph the Blue Angels from the air during their annual Fleet Week event over San Francisco, California. But it didn't just happen by luck.
To get this photo, I arranged to fly in a chase plane with the door taken off. I was strapped in so I wouldn't fall to certain death in the San Francisco Bay below. I shot with my Nikon D5 and used my wide angle 24-70mm F/2.8 lens because these Navy F/A-18E Super Hornet jets were actually only about 30 feet away from me.
Capturing these monsters of war thousands of feet up in the sky, with the San Francisco skyline in the background all while the pilot is looking directly at me, is an incredibly rare and well-orchestrated confluence of circumstances. That's what I love about this photo – that you can't just go out and make this image yourself without coordinating with dozens of people and organizations.
It's actually a trickier shot to get than it may seem. The plane I was in wasn't fast enough to keep up with the Blue Angels, so we had to start at a high altitude and enter into a gigantic downward spiral to get the chase plane fast enough to match the minimum speed of the Blue Angels while maintaining a significant bank. While in this maneuver, we only had about two full rotations around the city before reaching our floor altitude, giving us only a few chances to get everything lined up.
I also needed to coordinate with the fighter pilots as well as my own to try to create separation between the planes. If the wings or any other parts of the jets overlapped, it would ruin the shot – so I'd be telling the pilots to speed up, slow down, go higher, or go lower than their wingman or us. Even the slightest adjustment on the pilot's part would alter the separation, which could make or break the photo. All that, and I still needed to line it up with the ideal cityscape background.
I also had to keep my camera inside the plane. Reaching even slightly outside would subject my camera to winds of 130mph+, making it impossible to hold onto. It's also so loud and erratic in the chase plane, you can't hear or feel your shutter firing, so you just fire away and hope for the best. I shot at about 32mm. Any wider, and I'd be seeing my chase plane's wings which kills the composition.
Shooting the Blue Angels from the sky is probably one of the most exciting shoots I've done. Not just because it's exciting to look at, but because it was just as fun of an experience as you might imagine! And if you've ever wondered whether or not these planes are actually super close together or if it's just an illusion, let this photo provide proof that they are indeed flying $56 million jets only a few feet apart at hundreds of miles per hour!
Josh Edelson is an internationally published freelance photojournalist and commercial photographer based in the San Francisco Bay Area. Photojournalism takes up 25% of his time, and the rest goes to corporate events and headshots. His client list includes Apple, Google, Facebook, LinkedIn, The Governments of Dubai and Ireland. The most interesting thing he has done–proposed to his wife last year while skydiving in Spain! Recent News Work: via Getty
---
Quote of the Week — Peter Lindberg
The above photo is from Peter Lindbergh. Untold Stories published by Taschen.
People think that it is important to learn by assisting the great photographers. I say that is a big mistake. Be happy; just learn from any little guy. Learn how to use the camera – you don't need anything else. You can't be taught the real skill anyway. — Peter Lindbergh
Peter Lindbergh (1944–2019) was a German fashion photographer who preferred black & white photography. He captured fashion models Linda Evangelista, Naomi Campbell, Tatjana Patitz, Cindy Crawford, and Christy Turlington together for the January 1990 British Vogue cover, beginning an era of supermodels. He photographed the Pirelli Calendar three times 1996, 2002, and 2017. In 2002 he used actresses for the calendar instead of models for the first time. Germaine Greer described it as "Pirelli's most challenging calendar yet."
---
To see an archive of past issues of Great Reads in Photography, click here.
---
We welcome comments as well as suggestions. As we cannot possibly cover each and every source, if you see something interesting in your reading or local newspaper anywhere in the world, kindly forward the link to us here. ALL messages will be personally acknowledged.
---
About the author: Phil Mistry is a photographer and teacher based in Atlanta, GA. He started one of the first digital camera classes in New York City at The International Center of Photography in the 90s. He was the director and teacher for Sony/Popular Photography magazine's Digital Days Workshops. You can reach him here.
---
Image credits: All photographs as credited and used with permission from the photographers or agencies. Portions of header photo via Depositphotos. Middle horizontal (top) "Son of the Stars" © River Claure, courtesy PhotoVogue, Middle horizontal (bottom) Lalhande, 21, with his cigar, in front of a photo studio in Brazzaville © Daniele Tamagni, courtesy PhotoVogue, Blue Angels on extreme left © Josh Edelson.