NEWS | FEATURES | PREVIEWS | EVENTS
By Rachel Alban, JerseyArts.com
originally published: 02/25/2022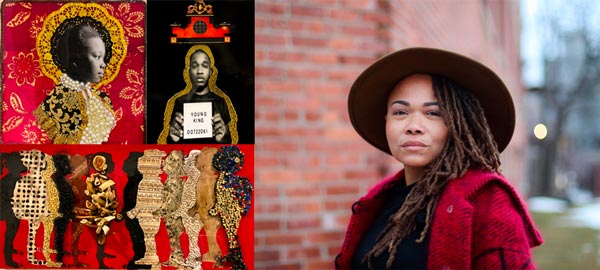 Danielle Scott creates evocative compositions that tell stories of intense joy and heartrending pain. Artist, educator, and NJ native, Scott graduated from Newark's Arts High School and earned a BFA from the School of Visual Arts in New York. We recently visited Scott at her Jersey City studio to learn more about her art and her life.
How would you describe your creative process?
I create my work because of what I have going on inside and what I want to say. Because I'm very shy, and I kind of keep to myself; my way of expressing myself and what's going on is through my work. My stories, ideas, family history, and everything all come out.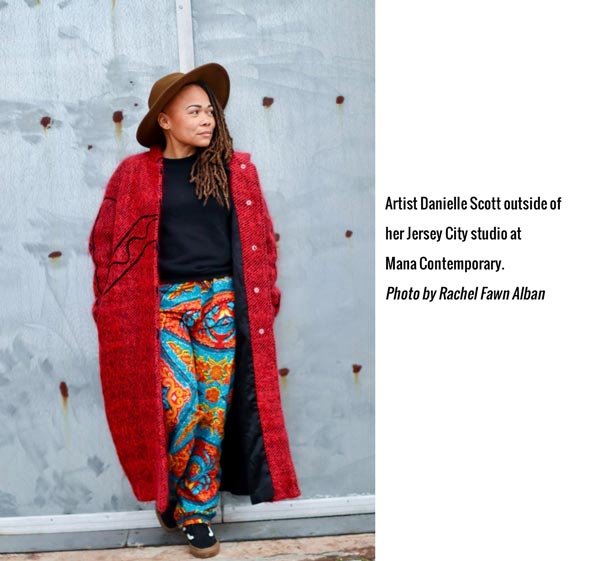 Tell us about the beginnings of your relationship with visual art and your journey as an artist.
In school, I was shy, but also a tomboy. When I was in 3rd grade, I beat up an 8th grade boy, because he did something hurtful to someone that I cared about. I got suspended from school, but the principal said, "I think we need to find an outlet for you – maybe it's art."
Advertise with New Jersey Stage for $50-$100 per month, click here for info
---
I was accepted into the ATC (Artistically Talented Curriculum) Program after taking a test that involved drawing hands and a chair. In ATC, I learned about paints and different materials. Eventually, I was accepted into the high school advanced arts program in Jersey City – but my mother moved us to Newark so I could attend Arts High School! At first, my mom was afraid of Newark. Ms Caldwell, the principal, assured her, "Your daughter is talented. Leave Dani with us – she'll be fine."
At Arts High School, I started seeing myself as an artist. Ms. Caldwell introduced me to my first mentor, Ms. Bisa Washington.  Initially, I was fearful of Ms. Washington, but I love her. I assisted in her studio – organizing materials, helping with beading work, and talking with her. Spending time behind the scenes with a professional artist made me realize this is what I want to do.
College was the best experience of my life. I was taught by the legendary artist Jack Whitten. My only professor of color at SVA, he gravitated towards Black and Latino students. I was blown away because he is in museums and won awards, yet he really saw us.
I remember him saying, "Tell our story, tell your story and stay true to yourself, child. "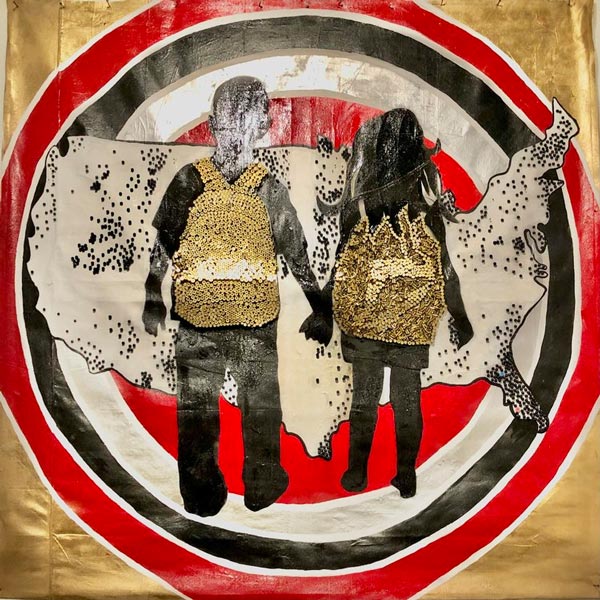 Work from Danielle Scott's Heavy and Loaded series. Photos of art work by Rachel Fawn Alban.
You went on to have long-term mentors in addition to Ms. Washington. Would you like to share more about how they inspired you?
Yes! I need to honor people who have helped me. Other long-term mentors are Ben Jones and Ms. Gladys Barker Grauer.
I first learned about Ben Jones from my elementary school art teacher. One of my drawings reminded her of his work. He is an important artist, local, and person of color, so this meant a lot to me. Then, in my sophomore year of high school, Ben Jones walked into my classroom! I recognized him immediately. Awestruck, I asked Ms. Caldwell, "How do you know him? He's in my art history book!" She explained, "He is one of my closest, dearest friends!" Now, he's my go-to person. Whenever I'm struggling, I call him to get that push.
Ms. Grauer mentored me until she died at 96 years old – after about 20 something years of mentorship. I have Ms. Grauer's drafting table in my home now. Her photo hangs in my studio, and I often feel her spirit present. I speak with her. She guides me when I am working.
I photographed the hands of Ms. Grauer and other mentors. I remember watching their hands at work and feel fueled with their wisdom and knowledge. They give me confidence when I want to give up.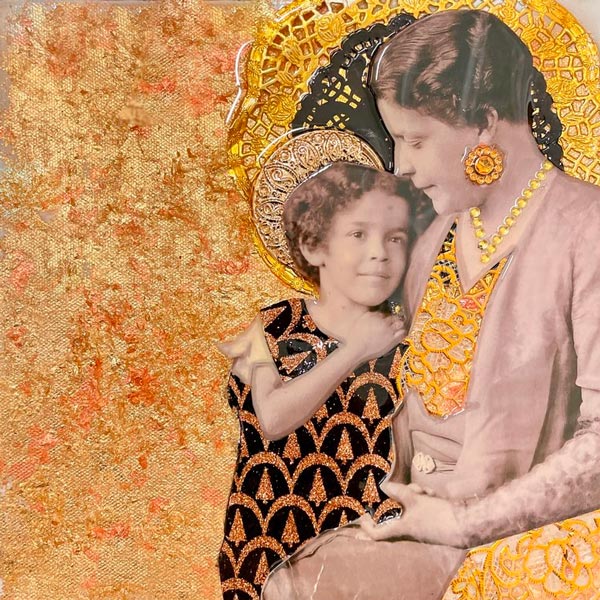 Advertise with New Jersey Stage for $50-$100 per month, click here for info
---
Danielle Scott's new Berth-her series is about the untold stories of women of color. Photos of art work by Rachel Fawn Alban.
You've had a remarkable support network – including family, mentors, and teachers. How can we cultivate that for young people?
I am blessed and lucky. I have been a teacher for 21 years. Because of my art teachers, I became an art teacher. 
Mentorship became a part of my practice as well. I mentor two girls of color right now. I try to offer everything that my mentors offered me. They doubt themselves, their work, and their purpose, so we meet and talk. Soon, they will assist me in the studio.
Because I'm doing this series about young women of color, I want them to be able to take in the work and see their own stories too. I want them to see the artist's life and see themselves as artists. That's what my mentors gave me. I think everyone needs that – in any discipline.
A trained oil painter, you now identify as a "mixed media assemblage artist." When and why did you make that transition?
I started assembling in 2018. I visited Cuba during the Havana Biennial and was extremely inspired. I am Afro-Cuban, so I also experienced going back to my roots.
Assemblage invigorates me. I feel like I am putting myself into every story. Before Cuba, I had been holding back. Working with oil paints was almost too comfortable. I was playing it safe.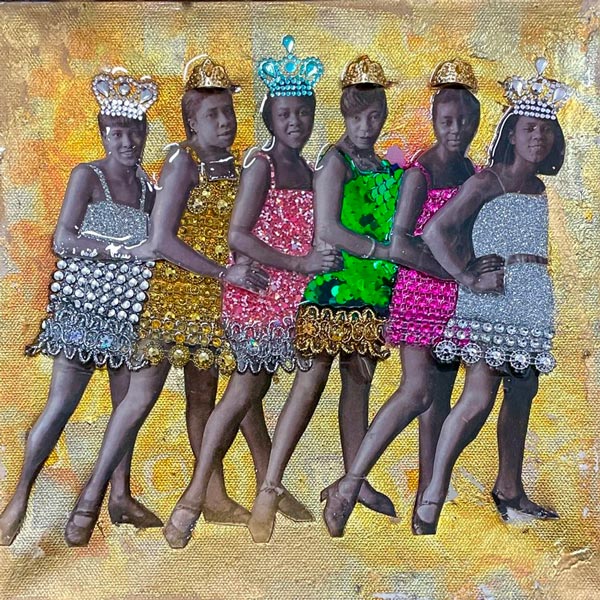 Your assemblages do not seem like you're playing it safe! They're so bold. What is your process like? It must be a challenging medium.
It is! In assemblage you literally assemble different objects. First, I pin things in place and work out compositions and relationships. Whether assembling or oil painting, I always want heavy contrast between the colors.
I re-arrange, re-pin, and stare at the work. My daughter has walked in on me and asked, "Are you meditating?" No. I'm looking and thinking.
Finally, I use adhesives like gel medium, matte medium… my fancy hot glue gun. I use resin to make a piece permanent. It becomes a permanent part of history and a permanent part of our story. It becomes a permanent part of my work.
Tell us about your recent "Berth-her " series.
The title Berth-her memorializes my grandmothers. It also represents giving birth to these women. This series is about the untold stories of women of color. They're crowned ornately with necklaces, feathers, flowers, and other beautiful objects to emphasize that power in their faces. 24-karat gold leaf is used to adorn them or create the background, which is very important.
My partner lives part-time in New Orleans. Together, we've been visiting The Amistad Research Center at Tulane University. Many of the historical images come from their database. My partner helps research the girls in the photos. I want to know their stories and if they are still alive.
This process feels peaceful and soothing after my previous series.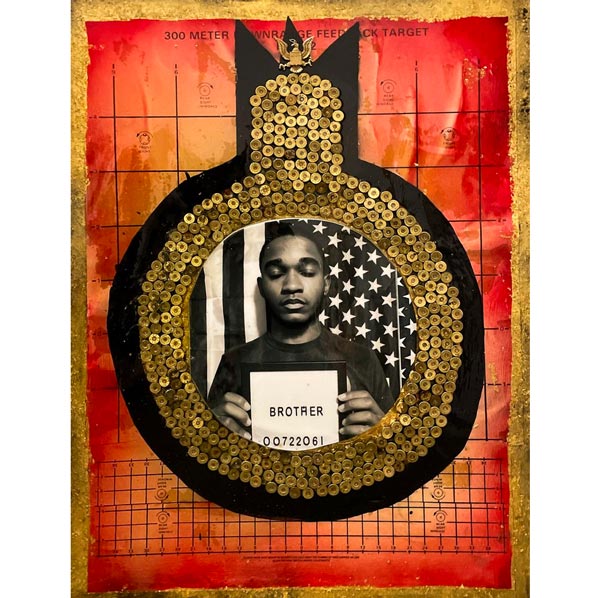 Work from Danielle Scott's series, Th ey Don't Know Who We Be . Photos of art work by Rachel Fawn Alban
Tell us about those previous series.
Heavy and Loaded consists of 26 pieces created during my ESKFF  residency when I came back from Cuba. The title describes the materials, which are physically heavy, like metal bullet shell casings. The content is also heavy and loaded – including depictions of lynched children and a work depicting a huge target around my son and daughter. Another piece, comprised of doll heads, is about my Jewish family's experience in the Holocaust.
They Don't Know Who We Be was inspired by male members of my family, especially my older son, and their experiences of racism as young men of color and being racially targeted.
That's intense. How did it feel to create that work?
I cried uncontrollably while making them. But I felt relieved to let out everything I've been wanting to say and do. It's important to tell these stories, create, and speak my truth.
I learned not to worry that "heavy" work might not be well-received. One of those pieces was acquired by the Newark Museum; It turns out people gravitate towards authentic work.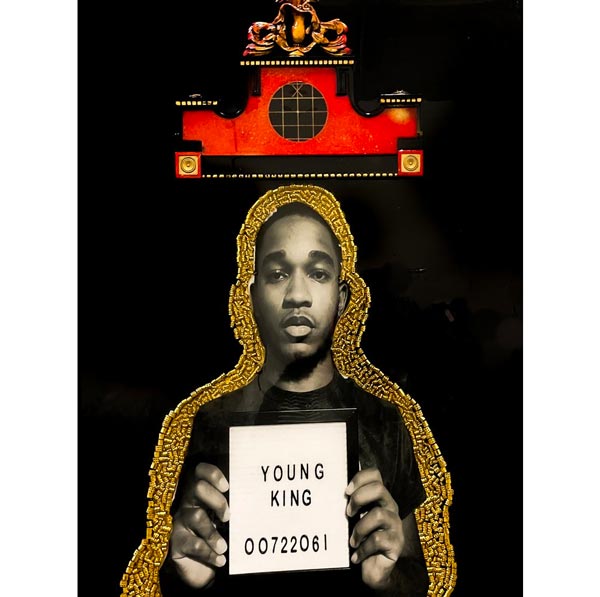 Work from Danielle Scott's series, Th ey Don't Know Who We Be . Photos of art work by Rachel Fawn Alban.
Where did you get the bullet shells?
I love hiking. Once, I was hiking at Lemon Squeezer, and I found bullets on the ground. My first thought was, "I don't think I should be here!" but I picked them up and kept them. Two years later, at the Havana Biennial, I saw art made with bullet shells. I was inspired.
Back in NJ, I visited the shooting range in Secaucus and asked for spent shells. They kindly gave me boxes of shells but warned that I needed to clean them. Cleaning them was tedious and it took over five hours! I almost got sick from breathing gunpowder until I was advised to wear a mask.
Next, I went to the range in Jersey City. I asked how to clean spent shells – and was told to use a washing machine! I was like, "Wow, it is going to be so loud, but I never want to handwash bullets again." Then, my son comes home one day and asks, "Why are there bullet shells in the washing machine?"
Advertise with New Jersey Stage for $50-$100 per month, click here for info
---
What's coming up that you are excited about? 
My solo show at The Bridge Gallery in Bayonne opens March 5th. In October, I have a big solo with Gallery Aferro in Newark, curated by Bryant Small and Anthony E. Boone. I'm excited… and nervous.
Photos in header include: Work from Danielle Scott's series "They Don't Know Who We Be," "Heavy and Loaded," and "Berth-her;" and a photo of Danielle Scott outside her Jersey City studio at Mana Contemporary. All photos taken by Rachel Fawn Alban.
---
About the author: Rachel Fawn Alban is an arts educator, writer, and photographer based in Newark, NJ. Since 2013, she has been covering arts and culture stories for UntappedCities.com, StreetArtNYC.org , and ArtBreakout.org and was a contributing photographer to Google Arts and Culture's online 5Pointz exhibition. As an arts educator, Rachel develops and leads art workshops for organizations including Rutgers University's Paul Robeson Galleries, Abrons Art Center, Scholastic's Alliance for Young Artist and Writers, and is on Arts Ed Newark's Trauma Informed Team. Rachel earned her BFA in Art Education and MPS in Art Therapy at the School of Visual Arts. Rachel is thrilled to now be focusing on the arts in New Jersey!
Content provided by
Discover Jersey Arts
, a project of the ArtPride New Jersey Foundation and New Jersey State Council on the Arts.