NEWS | FEATURES | PREVIEWS | EVENTS
By Rachel Alban, JerseyArts.com
originally published: 03/09/2022
Armisey Smith uses diverse materials to honor women of color and critique aspects of systemic oppression. On view until April 1, 2022 at Gallery Aferro, her solo exhibition "In Time and In Tide" presents powerful reflections on the causal relationship between the COVID-19 pandemic and systemic racism via oil stick drawings, masks made of tulle, zippers, and glitter, as well as her Side Eye/Pink Eye series of acrylic portraits, which depict women of color giving the side-eye, with hot, pink blood in their eyes.
Brooklyn-born Armisey Smith, who lives in Newark, holds advanced degrees from both Parsons and Pratt Universities in New York City. We recently interviewed Smith to hear more from this prolific illustrator, public artist, arts administrator, and educator.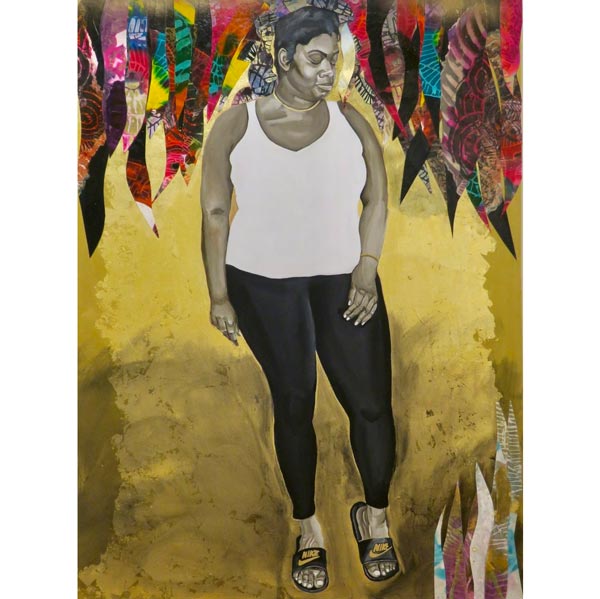 Mixed media painting by Armisey Smith. Photo of art work by Rachel Fawn Alban.
How would you describe your creative process?
My creative process is hard to explain. I begin with an idea. The idea grows into something like a mantra. In my head, I repeat this mantra, and consider images that come to my mind and what I would like to create. Then, I think about how to best convey and embody these images, and I start sourcing materials. These are the seeds which drive my compulsion to create art. The compulsion to create doesn't really end, so I have plenty more art not in my current solo show.
Advertise with New Jersey Stage for $50-$100 per month, click here for info
---
Tell us about the beginnings of your relationship with visual art and your journey as an artist.
I've always been that type of artist that likes to see what response they can elicit from the viewer. As a child, I created weird art that was just "out there." For example, I made a series depicting weird eyeballs and noticed how people reacted. When I was in high school, I made a series of paintings of people being impaled, which shocked and worried adults in my life. My mom was like, "Are you OK?"
Art was my way of expressing complicated feelings. I was angry about the death of my father. He died while I was still in high school, and making art was a way for me to get out some of those emotions. I still have complicated feelings about my father's death.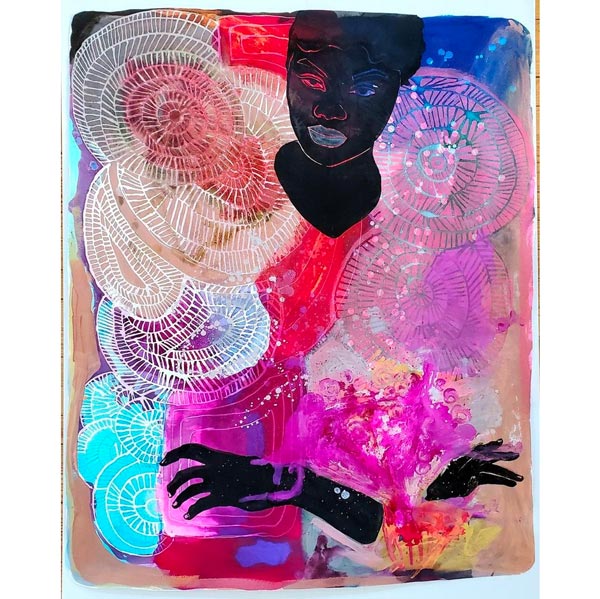 Armisey Smith's "Busted Bouquet, oil stick on paper, 39×47, 2021." Photo courtesy Gallery Affero.
As an adult, there seems to be a parallel or continuation of similar themes in your art.
Yes definitely, there are parallels in my work now. As an adult, I can express myself in deeper ways and convey more complicated ideas, depending on the type of mediums I work in. Not every piece is going to speak to every person. There may be one thing that the viewer will connect to. It may resonate – or they may hate it! Either way, I welcome all types of reactions. I see art as a means of connecting to oneself, connecting to others, or connecting what's going on in in society.
How else have you grown as an artist since those early years?
Diversity in terms of materials I use, how I use materials, and experimenting with new or unconventional materials are important to me as an artist. Sometimes, going back to lessons from my foundation years at Parsons helps me tap into different mediums. Those foundation lessons often help me talk about my work or add another layer or texture to my piece.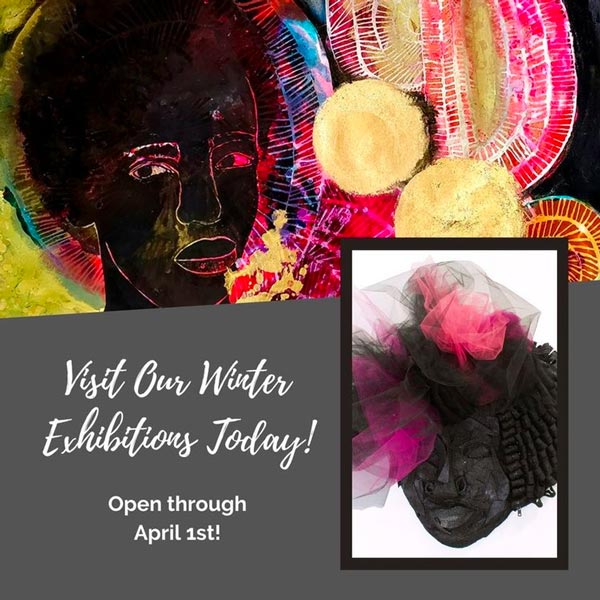 Social media post from Gallery Aferro featuring Armisey Smith's large-scale masks and "Watchu Saying?" alcohol ink and acrylic on paper, 44×36, 2022.
Advertise with New Jersey Stage for $50-$100 per month, click here for info
---
Tell us about the work in your solo show at Gallery Aferro.
Except for the masks, most of that work was done in the past two years, during the lockdown. I felt the need to channel some of my rage, disdain, sadness, and feelings of isolation into a series of works about the effects of COVID on people of color.
I felt disdain for certain folks who seemed not to care about how their actions could affect other people's lives. Mostly, it was the cavalier attitude among white men that was just so enraging. I began the Side Eye/Pink Eye series to channel these difficult feelings and thoughts.
The first few were all about anger and rage. Then, the series became a way of connecting to people as I reached out to women that I know and love, asking for side-eyed selfies to paint. That connection was important for me, but it was also important for the women who participated. It gave everyone the opportunity to share their voices, their feelings, their thoughts about what was going on at the time.
You spoke about the work expressing rage and distain – but I also see that connection. I even see humor in some of them.
Yes. Giving side eye can mean many different things. One can be humor. Like, that moment when someone says something out of line, and it is a look of "What are they talking about?" Then you exchange a look with your friend and you both start laughing.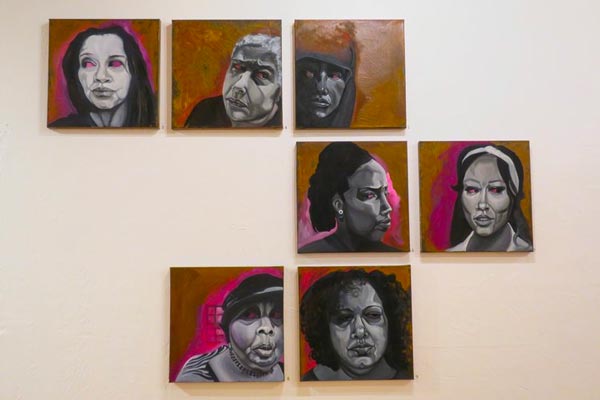 Armisey Smith's Side Eye/Pink Eye series depicts women of color giving the side-eye. Photo of artwork by Rachel Fawn Alban.
There are many different layers of emotion in your work. In the Side Eye portraits, but other works too.  
As an artist and woman who cares about other people's feelings, I am always thinking about how to take care of others. Those roles in my life inform much of the work. Some of my work is about anger, but some of it is about either introspection or love. Love of self, love of others. Themes of letting go, moving on, and the whole gamut of emotions and actions are folded into the work.
Prior to the pandemic, I was creating pieces that were less controversial or confrontational. That work could be described as "softer," often exploring ideas about how to be gentler to yourself. I made work about women being iconic and deserving of a higher esteem or image.
For example, I made a series of gilded vaginas. Society doesn't often look at women in that high regard. It's disturbing and frustrating how the role of women in society over years has changed but the way women are viewed has, in many ways, stayed the same.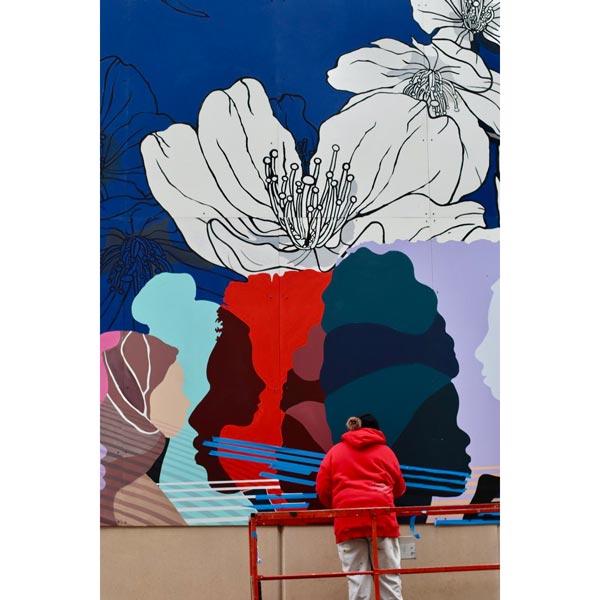 Armisey Smith at work on a 40-foot, hand-painted mural in the courtyard of the Newark Public Library, as part of The Newark Artist Collaboration, an Audible impact initiative. Photo by Rachel Fawn Alban.
What does it mean to you to have your solo show at Gallery Aferro now?
It means a lot. On a personal level, I think about my mom, who was an artist. Her dreams were deferred because of family circumstances. She was the care-taker of everyone in the family. I feel like I've achieved another kind of level she would be proud of. I'm paying homage to her.
It is also meaningful to have the artwork live outside of social media. Now, people can finally see the pieces in in person, and interact with the work in a physical space. That's important, so I'm thankful and happy.
Where can our readers see more of your art?
In Newark, I recently completed a hand painted mural at the courtyard of the Newark Public Library. I designed functional sculptures to go with it, which should be installed spring 2022. That project is part of the Newark Artist Collaboration, sponsored by Audible. I also painted a mural on Treat Street as part of Four Corners Public Arts. See more on my website. 
Images in header include: Armisey Smith at work on a 40 foot, hand painted mural in the courtyard of the Newark Public Library; one of her large-scale masks; and images from her Side Eye/Pink Eye series. Photos by Rachel Fawn Alban.
---
About the author: Rachel Fawn Alban is an arts educator, writer, and photographer based in Newark, NJ. Since 2013, she has been covering arts and culture stories for UntappedCities.com, StreetArtNYC.org , and ArtBreakout.org and was a contributing photographer to Google Arts and Culture's online 5Pointz exhibition. As an arts educator, Rachel develops and leads art workshops for organizations including Rutgers University's Paul Robeson Galleries, Abrons Art Center, Scholastic's Alliance for Young Artist and Writers, and is on Arts Ed Newark's Trauma Informed Team. Rachel earned her BFA in Art Education and MPS in Art Therapy at the School of Visual Arts. Rachel is thrilled to now be focusing on the arts in New Jersey!
Content provided by
Discover Jersey Arts
, a project of the ArtPride New Jersey Foundation and New Jersey State Council on the Arts.