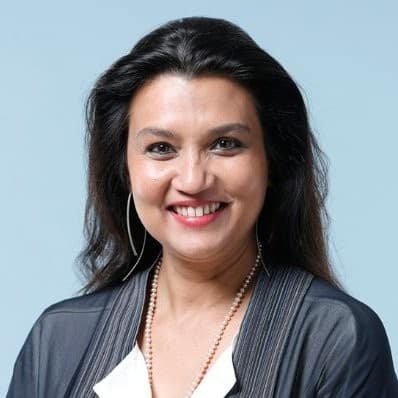 M+ is a museum of visual arts for Hong Kong, set to open to the public for the first time on 12 November 2021. Just four weeks before the doors of this world-class new landmark for the city opens, blooloop spoke to M+ director Suhanya Raffel about the journey so far and the museum's goals for the future.
The scale of M+
M+ is located in the West Kowloon Cultural District and is part of the master plan for this area of Hong Kong. It is designed by Herzog & de Meuron, in partnership with TFP Farrells and Arup.
The building covers a total area of 65,000 square metres and is 90.6 metres tall with 16 stories. Within this, there are 33 galleries, with 17,000 square metres of exhibition space, alongside three cinemas, one mediatheque, a learning hub and a research centre.
In terms of scale and equivalence, M+ is comparable to the Pompidou Centre in Paris, Tate Modern in London or the Museum of Modern Art in New York.
What to expect
Raffel, who also features on this year's blooloop 50 Museum Influencers list, was appointed as the director of M+ in January 2019. Her previous role was as deputy director of the Art Gallery of New South Wales in Sydney, from 2013 to 2016. She has also held senior curatorial positions at Queensland Art Gallery / Gallery of Modern Art in Brisbane.
Speaking about what visitors can expect from M+, she says:
"We are a museum of visual culture which means that we cover design, architecture, visual art, and the moving image. It's a new museum of 21st and 20th-century visual culture. When you look at institutions such as the Pompidou and MoMA, we are very similar in the sense that we have that expanded interest, in terms of disciplines and exhibitions.
"We are a new museum. But we are not only building a museum, we're also establishing an institution, which is very unique, given the scale of what we're doing. Contemporary visual culture is something that is very special to Asia. And we will be the first institution that spans those interests on this scale for Asia."
M+ has the ambition to be one of the world's leading cultural institutions.
The West Kowloon Cultural District
The new museum can be found in Hong Kong's West Kowloon Cultural District. This is 40 hectares of reclaimed land, set aside for cultural infrastructure. This includes the Hong Kong Palace Museum, which opens next year.
"In 2008, the West Kowloon Cultural District was formed," says Raffel. "An upfront endowment of 21.6 billion Hong Kong dollars was set aside and given to the authority to build infrastructure. The idea was that retail, dining and entertainment would provide a steady source of recurrent income, with some of the public infrastructure works supported by the government."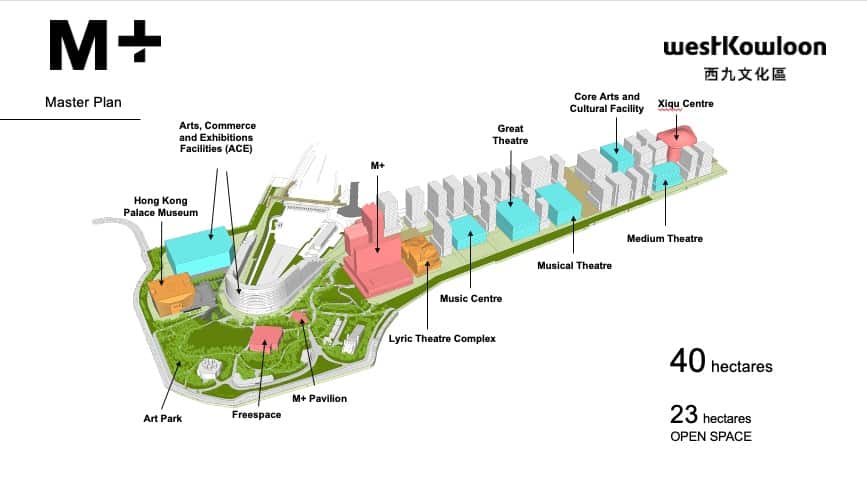 "In mid-2013, the government undertook the construction of an integrated basement. This was part of a Norman Foster master plan that said all the ground floor would be pedestrian, and underground would be transport infrastructure."
A new model
"By 2017, there was a shift in how we needed to manage our way forward. It was clear that we needed to have a slightly expanded version of a financial arrangement.
"So, the West Kowloon Cultural District Authority was granted the development rights and given the land grant to develop all of the public-private infrastructure that would support the cultural infrastructure moving forward, and that the Authority would retain ownership of the land and premises. That was a very big shift."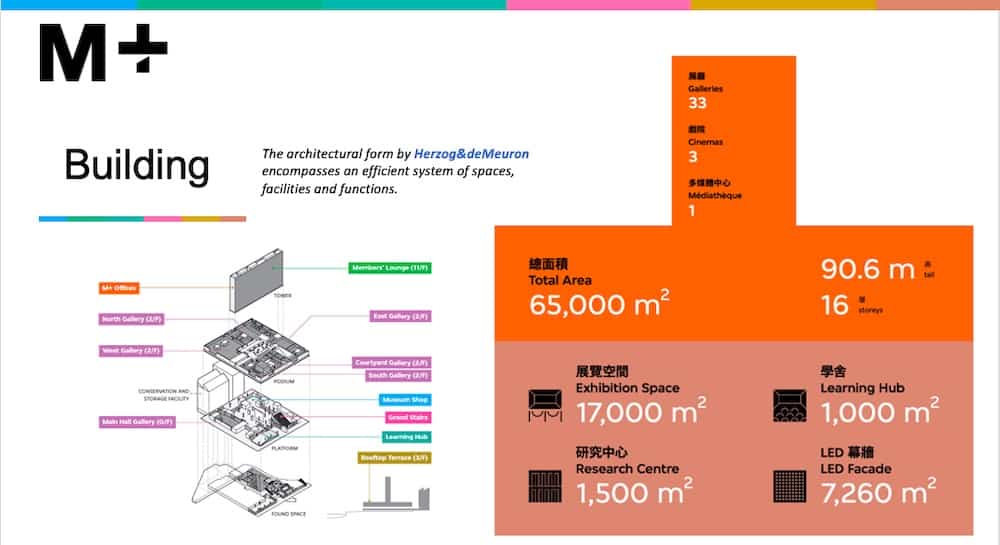 "When you realise how central this piece of land is, and how valuable it is, it really puts a different structural form and strategic thinking around the future of major cultural infrastructure support, for M+ and the other cultural institutions here, but also as a model going forward."
M+ is a global museum in and for Hong Kong
M+ sets out to be a global museum in and for Hong Kong, shaping a preeminent collection of 20th and 21st-century visual culture within an Asian context, with a distinctive voice.
"It is our collections, our digital work, our publications and our research that are really driving our content. We do think about ourselves as multidisciplinary and we are imagining, inventing and interpreting what is the new Asian canon. Up to now, the Euro American canon has been so well established."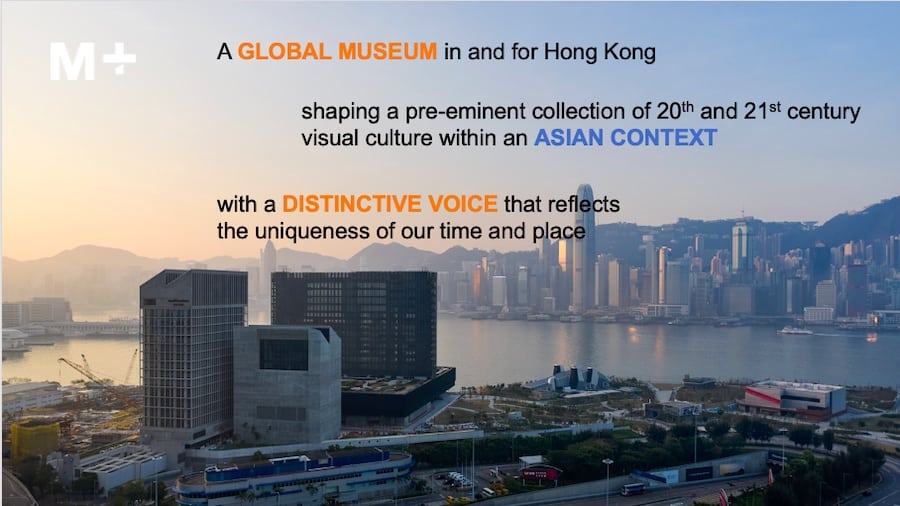 "We feel very strongly that we need meaningful, informed and authoritative voices coming out of our parts of the world, that bring very clear art historical, social relations, design and architecture histories to the highest level of presentations in our museum.
"The collection already numbers just under 8000 items. This includes the inaugural gift of the Sigg collection in 2012 which numbered 1510. Plus, we have just under 50,000 collection archives that fundamentally cover the architectural and some of our design items, and a special library collection of 443. About 22% of all of this comes from Hong Kong makers and artists."
Engaging with audiences
Work began on the construction of the M+ building in 2014. In the years prior to opening, the team have been working hard to raise awareness and engagement, both locally and around the world.
"While waiting for the museum to open we have been very busy," says Raffel. "Part of that business includes loaning our collections. We have a very strong lending programme to institutions around the world."
In fact, 598 works from the museum's collection, and 88 exhibitions, have been displayed at other institutions around the world, including Tate Modern, The Metropolitan Museum of Art, The San Francisco Museum of Modern Art, The National Gallery of Singapore and many more.
In the early days, Raffel says: "We had ten mobile exhibitions, moving around the city. This helped to introduce the museum and our work to people and to start building an audience base. And then from 2016, we had our M+ pavilion, a 500 square metre space in West Kowloon Cultural District. Here, we were able to develop the infrastructure of a large museum from this very modest base."
Online programming at M+
"Audience building has been a critical part of the work that we have been doing the last five years. We've been doing this through exhibitions and through learning programmes, but also through online engagement," says Raffel.
This early foundation of online programming set M+ in good stead when it came to the outbreak of the pandemic:
"When COVID came, we couldn't do our physical programmes in quite the same way. So the online programmes really took off. We found that our audience engagement almost tripled within the space of months."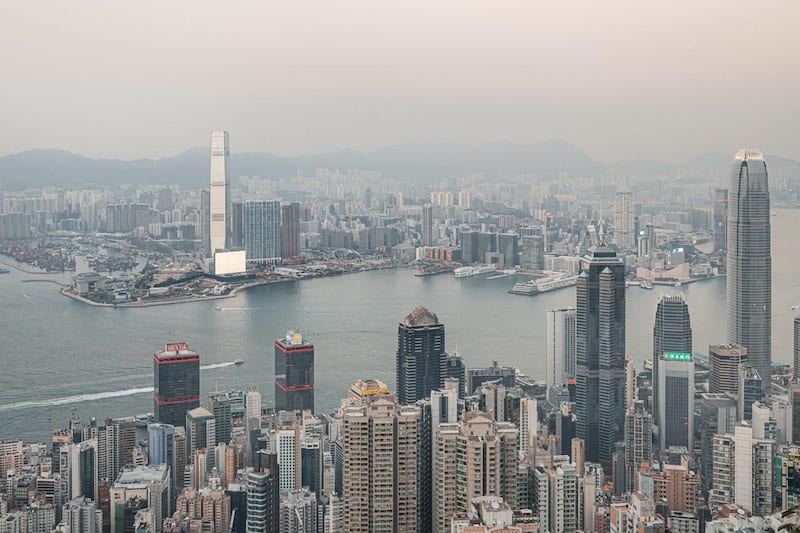 "It's exciting to know that the technology that we're now using has ensured that our audience base expanded exponentially.
"We do everything in three languages: in Cantonese, in Mandarin and English. So, that means our online audience reach is specific to mainland China, but also global audiences. We have reached about one and a half million people over the last five years, with an audience of almost 400,000 just in the last seven months."
Opening exhibitions
The museum will open with exhibitions drawing from the M+ collections, covering the whole 17,000-square-metre exhibition space.  
These will be Hong Kong: Here and Beyond; M+ Sigg Collection: From Revolution to Globalisation; Things, Spaces, Interactions; Individuals, Networks; Anthony Gormley: Asian Field; and The Dream of the Museum.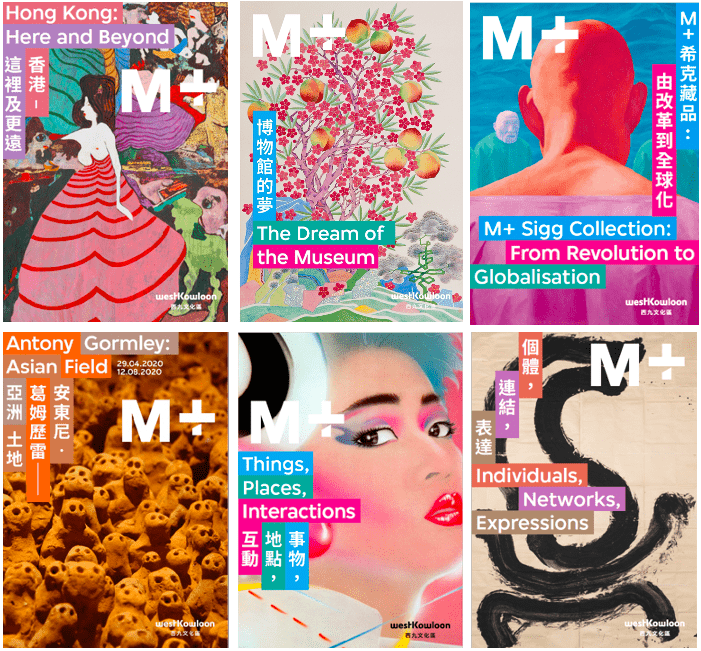 Following this, Raffel says, it will begin to bring its special exhibitions to the fore in around a year's time. This will include a comprehensive exhibition of Yayoi Kusama and the first exhibition of the iconic architect I. M. Pei, designer of the Louvre Pyramid. M+ will also host an exhibition called Madam Song: art, fashion and lifestyle after Mao.
"We also have our LED media façade," adds Raffel. "The architecture of the museum is very interesting because we embody our moving image on our tower. On 13 October we will begin by doing a countdown, preparing the city for the museum's opening."
"Of course, we're opening during COVID times. This means that our institution is fundamentally opening to an audience that is from Hong Kong. And actually, that's a very good feeling because the city has invested so much in this institution. So, it feels apt that we open for the city first."
An engaging web presence
M+ also has its own website, for those further afield:
"This website, since launching, has got almost half a million visitors coming through already, which is amazing. Part of the museum's website includes our collection online, or what we have been able to digitise. About a third of the museum's collections have images, and we have got up to 6000 objects now online. That is ongoing work."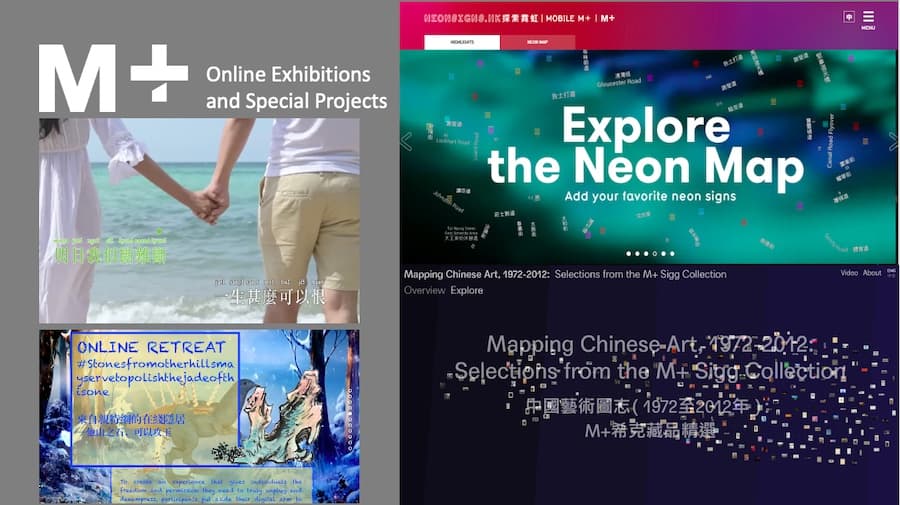 "We have online exhibitions as well, which are only available for visiting online. So, we see the digital world and the physical world working in parallel. By not yet having a physical building, our digital capacity has really been a muscle that we've grown fairly significantly. And we're very proud of that, including an online magazine, and how we map our collections."
A young team at M+
The museum has also been busy growing a talented team. Raffel says that the M+ team is a very young staff, with an average age of around 29 to 30:
"This is fantastic, on one hand, and it also has meant that we had to look far and wide to bring our staff together. We have a deep scholarship in East Asian visual culture, including architecture, design, moving image and visual art. Plus, we also carry with us over 25 nationalities within the institution."
"Diversity is something that we embrace and embody, quite literally. The last time I counted there were up to 17 languages that we have the capacity for within the institution. We can introduce our voice in so many languages to people."
M+ is committed to sustainability
Sustainability has been embedded into the project from the very beginning, being part of the initial architecture brief.
"Sustainability was a very important piece of building the museum," says Raffel. "As we know, museum buildings are very expensive. But I think one of the clear pieces of work that COVID has really pushed through is the need to be energy efficient and green in our attitude, thinking about how these institutions function."
"In terms of the building and facility, it's only the exhibition spaces and the formal collection spaces that have the kind of air conditioning, relative humidity and temperature controls that you expect in such an institution. For the rest of those large interstitial spaces, we are not going to control those environments. Not to the degree that the exhibition spaces are controlled. This means that, immediately, we won't use the kind of energy footprint that a typical museum might have.
"We are also looking right across the museum's work to see how we can establish sustainability. So, we began a sustainability task force, establishing a culture of being open to sustainability. We are thinking about sustainability across many aspects and avenues of our work. Not just in facilities, exhibitions, and programmes, but also in community and community wellbeing. It's very holistic."
Embracing technology
As a modern museum, M+ will embrace technology, both in its collection and in how it engages with its audiences.
"One of the huge advantages we have is that where we are in Hong Kong, in the Greater Bay Area, technology has been embraced for years. In fact, East Asia has the most tech-savvy communities in the world."
"The relationship to technology is embedded in the curatorial team, both in terms of planning and delivering exhibitions but also in how we also think about collection making and what kinds of things we collect.
"For example, we have a collection of emojis as part of our visual culture collection. We've got the first robotic dog, we have the Walkman. All of those kinds of early designs are in the collection. Then, we will continue to develop that into relationships with others in the sector, within the museum. This is a curatorial conversation, as well as an exhibition delivery conversation."
Museum and more
On the topic of the museum's name, Raffel shares a story from the planning stages:
"M+ means museum and more. Actually, the title of M+ began through public consultation. We asked the people of Hong Kong what kind of museum they wanted. And the kind of museum that the people wanted covered topics like contemporary design, moving image, popular culture and visual art."
"The museum advisory committee, which was chaired by Victor Lo, who is now the museum chairman, they advised not to do lots of little museums but to create one very large museum to encompass all those disciplines, and more.
"They kept saying, the 21st century is our future, and in the future, museums need to be more than what we understand them to be now. We needed to be open-ended and to provide a basis for the next set of museum leaders to think laterally.
"They couldn't decide how to describe this museum in the committee. They kept saying it's a museum and more. One of the committee members was a designer, Freeman Lau. Victor asked: 'Can you give us some kind of logo that somehow captures what we're talking about – this museum and more?' It was Freeman who put M+ as a placeholder. But it never stopped being a placeholder.
"In fact, it came to be our identity. It's such an enabling way of describing a museum."
Inside M+: Asia's first global museum of contemporary visual culture