"One's period is when one is very young," wrote fashion doyenne Diana Vreeland in her 1984 memoir D.V., a pertinent observation about the ways in which our aesthetic sensibilities are imprinted during our earliest years. For Helmut Newton, whose childhood was spent in Weimar, Germany, the luminous drama of noir and glamour cast a powerful imprint upon his style, one that he brought to bear throughout his revolutionary fashion photography career.
Born into a wealthy Jewish family in Berlin in 1920, Helmut Neustädter fell in love with photography at a young age. At 12, he started photographing the Funkturm (Radio Tower), a sleek, chic symbol of the emerging modern age and a motif to which he would return. Surrounded by artists, intellectuals and innovators who made Berlin one of the most avant-garde cities of the time, young Helmut came of age in a culture ripe with pleasure, provocation, and decadence. 
Helmut Newton In a Hôtel de Passe, Self-Portrait with Model, Paris 1971 © Helmut Newton Foundation
"It sounds quite promising as one thinks of the liberalism of the Weimar Republic and the Roaring Twenties, of alcoholic and erotic debauchery," says Dr Matthias Harder, Director and Curator, in advance of the opening of Helmut Newton: Legacy at the Helmut Newton Foundation on 31 October. "Helmut's mother, an elegant woman with a strong sense of fashion, influenced him early on. In 1936, aged 16, Helmut began a two-year apprenticeship with then-famous photographer Yva, who published her sophisticated and, for the time, sometimes erotically-charged fashion photographs and portraits in many magazines." 
But a dark force was on the rise, casting a pall that would forever change his life. "In his later autobiography, Helmut recounts the brutal clashes between Communists and National Socialists on the streets of Berlin, even before the latter came to power in 1933," Matthias says. On November 9-10, 1938, the Nazi's Sturmabteilung paramilitary joined forces with civilians to attack Jews — otherwise known as Kristallnacht, the Night of Broken Glass. Recognising it was unsafe to stay, Helmut packed a suitcase, grabbed two still cameras, and boarded a train to Trieste, Italy, where he booked a ship passage to Singapore. "Helmut's teacher Yva, whom he adored, stayed in Berlin," Matthias says. "Four years later, she was taken to a concentration camp and killed there. If Helmut had not fled, he would have faced the same fate."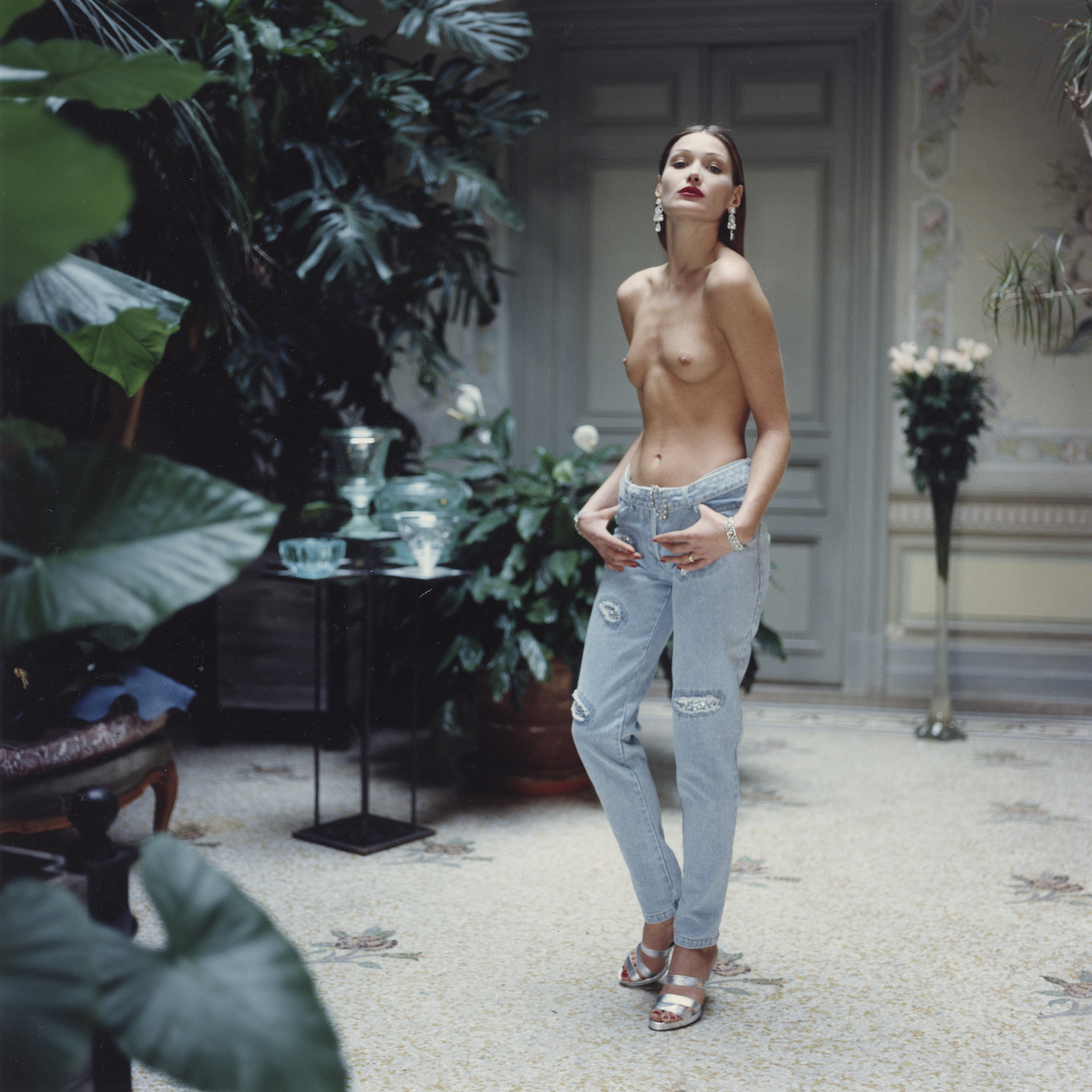 Helmut Newton Carla Bruni, Blumarine, Nice 1993 © Helmut Newton Foundation
After living in Singapore for two years, Helmut moved to Australia, where he anglicised his name and served in the army. After opening a small photo studio on Melbourne's fashionable Flanders Lane, Helmut met Australian actress June Brunell who came by to pose, hoping to earn extra money as a model. Gazing around the room, June fell in love with Helmut's work — then the artist himself. They wed in 1948 and remained together until Helmut died in a car accident in 2004.
After establishing Helmut as a fashion photographer on the rise, the couple moved to London in 1957, where he landed a contract shooting for British Vogue. But Helmut's radical aesthetics proved better suited for Parisian tastes. In 1961, the couple arrived in the City of Lights, where Helmut finally received proper recognition for his work. Drawing inspiration from the Weimar Republic, Jewish creative émigrés like Erich von Stroheim, and crime novels, Helmut developed his signature style that would revolutionise fashion photography forevermore.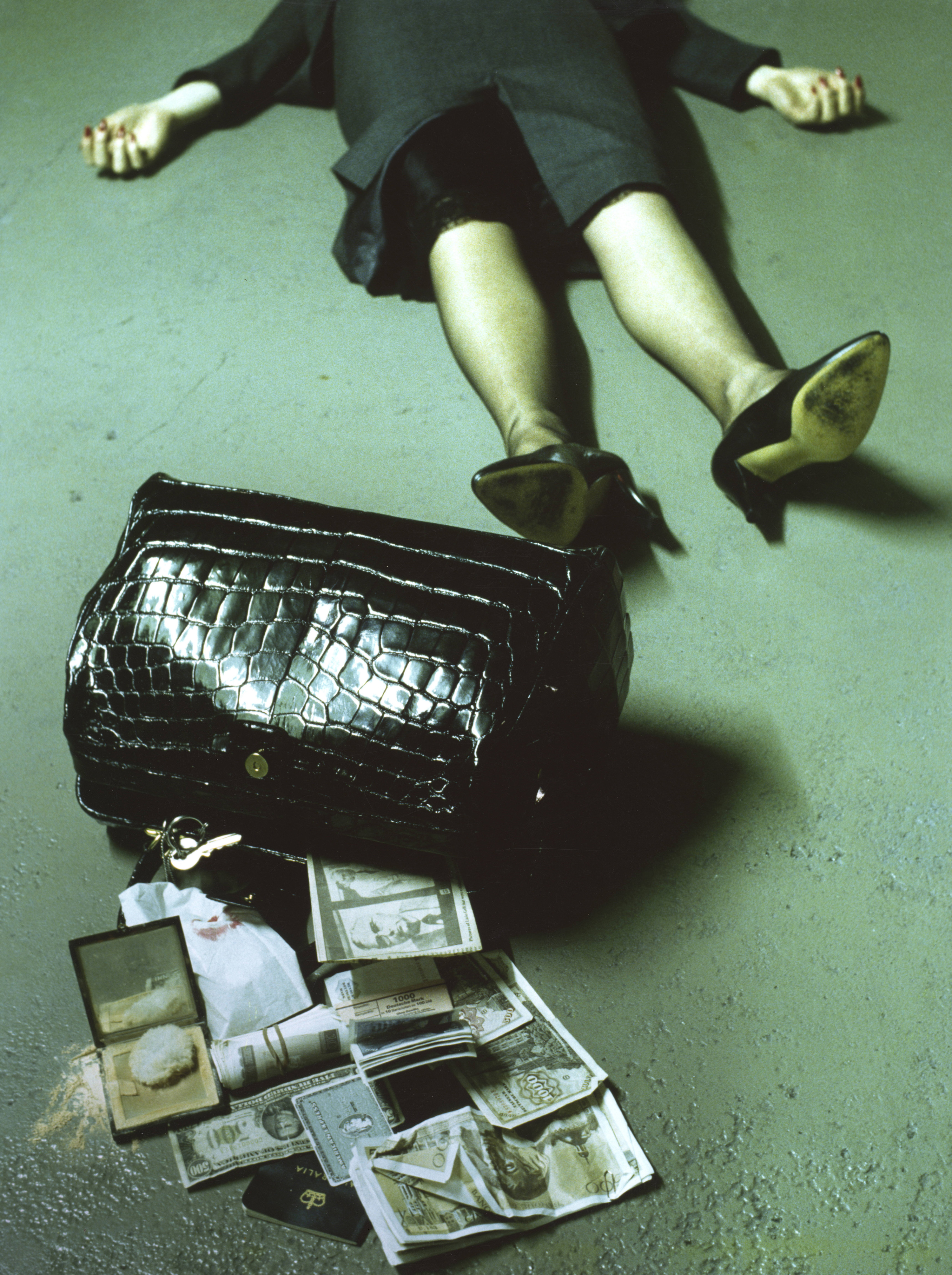 Helmut Newton, Prada, Monte Carlo 1984 © Helmut Newton Foundation
"From the mid-1960s in Paris, Helmut began to combine all themes and genres into an inimitable mélange," Matthias says. "His fashion shots were always more than normal fashion photographs; he combined them with imaginative crime stories, social satire, or even an opulent decadence. He sometimes indirectly used the plots of novels in his pictures, as well as certain films." 
Drawing from the works of Alfred Hitchcock, François Truffaut, Federico Fellini, and or Luis Buñuel, as well as the extremely popular James Bond franchise, Helmut used the photograph to stage enigmatic, thrilling stories with a noir-ish edge that boldly subverted and transgressed the traditional depictions of fashion and femininity by presenting women in dominating roles normally ascribed to men. "Helmut gave women power and strength simply through his images; he found a very compelling visual expression that was almost universally understood, coupled with a natural, timeless elegance," Matthias says, who points to various sources of inspiration, such as Fräulein Else, a novel by Arthur Schnitzler, which tells the story of a young bourgeois woman as seen through the eyes of a rich man. 
"It is described as an obsessive dilemma between exhibitionism, female emancipation, self-sacrifice, and death wish," Matthias says, detailing themes that Helmut explored with relish throughout his work. "Of course, his open, liberal, sometimes provocative visual language must have been disturbing to conservative minds at the time. Looking back today at his fashion pictures over five decades, we can see how he became a pioneer of such social change."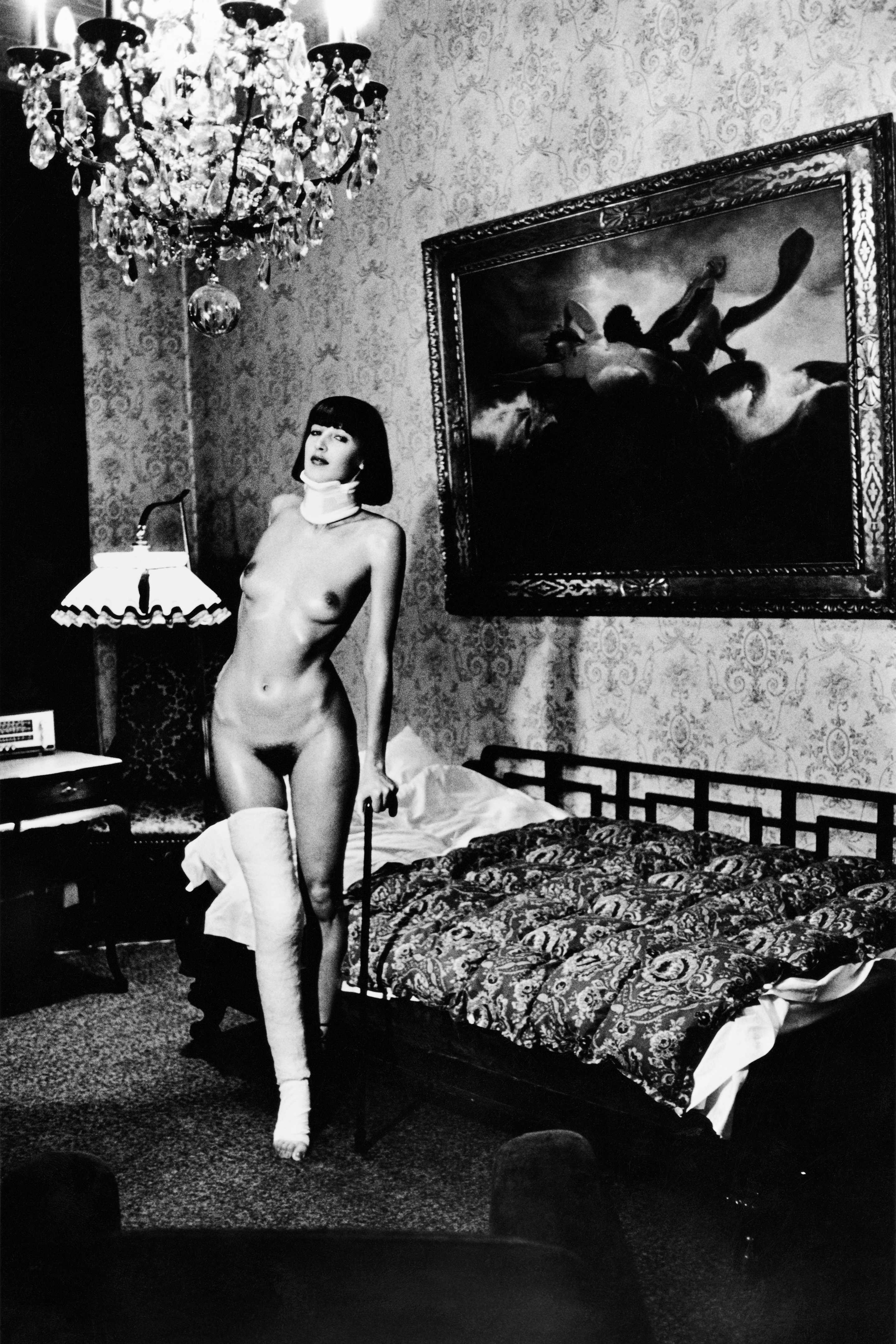 Helmut Newton, Courrèges, Queen Magazine, Paris 1964 © Helmut Newton Foundation
Perhaps that is in part because Helmut was always reinventing himself. Understanding that time waits for no one, Helmut forged ahead, never letting "what is…?" stand in the way of "what if?". Taking delight in the element of surprise, he crossed genres with singular aplomb, pushing the boundaries of art, fashion, photography, and culture. Fearlessly rendering social taboos with unparalleled elegance, Helmut transformed viewers into voyeurs by weaving mesmerising tales of power, eroticism, and kink.
"Helmut found his own radical visual language early on and left his mark on it," Matthias adds, noting that Helmut remained a dominant force in fashion photography well into his 80s. "Many younger colleagues have followed him and his style, but Helmut remains unmatched. Such a long career at this level is rare in the fast-paced fashion business. Helmut Newton opened our eyes to our own unconscious and took us on a visual daydream journey yet remained very concretely in the pictorial — and that fascinates us to this day."
'Helmut Newton: Legacy' is on view at the Helmut Newton Foundation in Berlin from 31 October 2021 – 22 May 2022.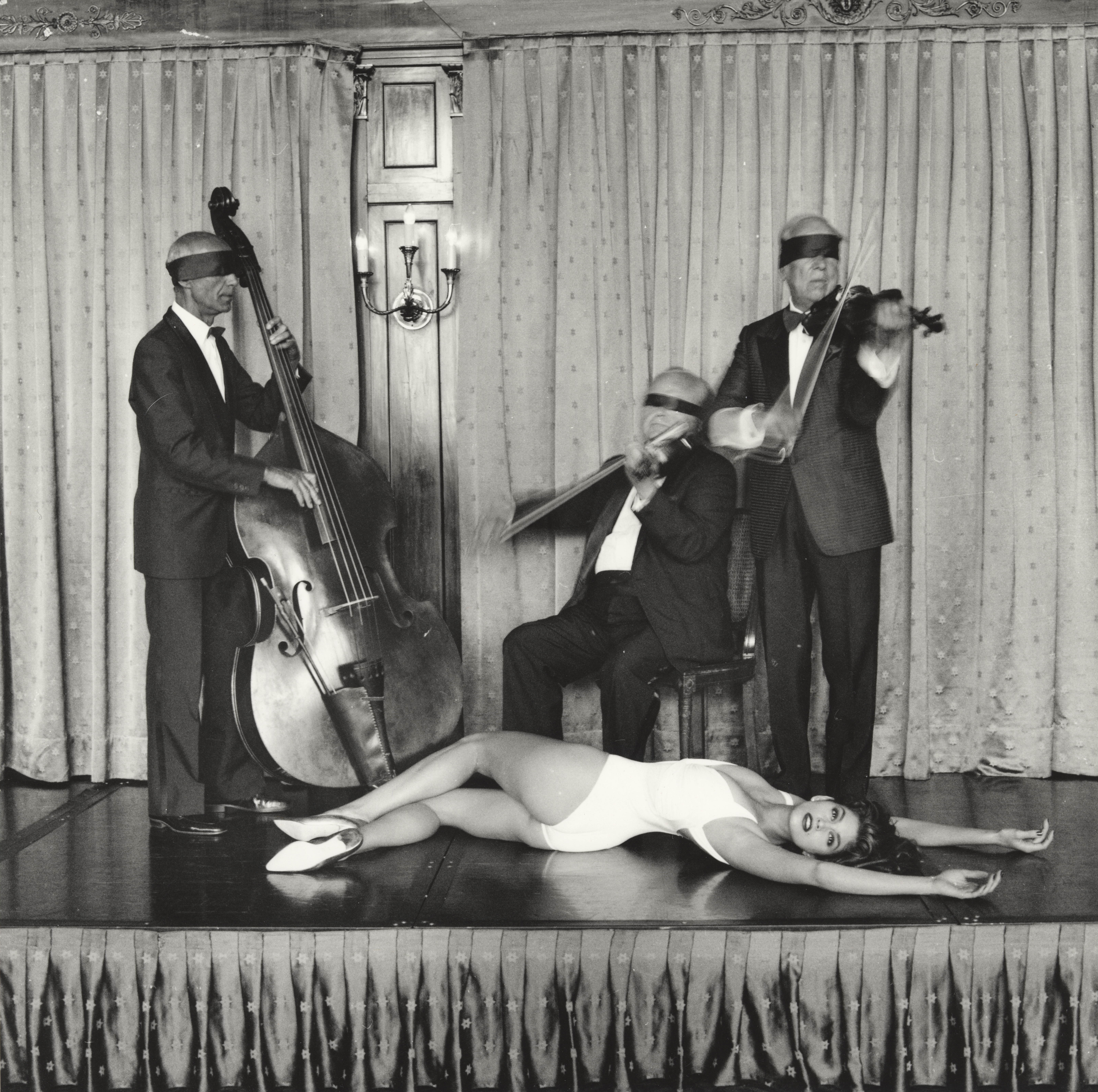 Helmut Newton, Cindy Crawford, US Vogue, Monte Carlo 1991 © Helmut Newton Foundation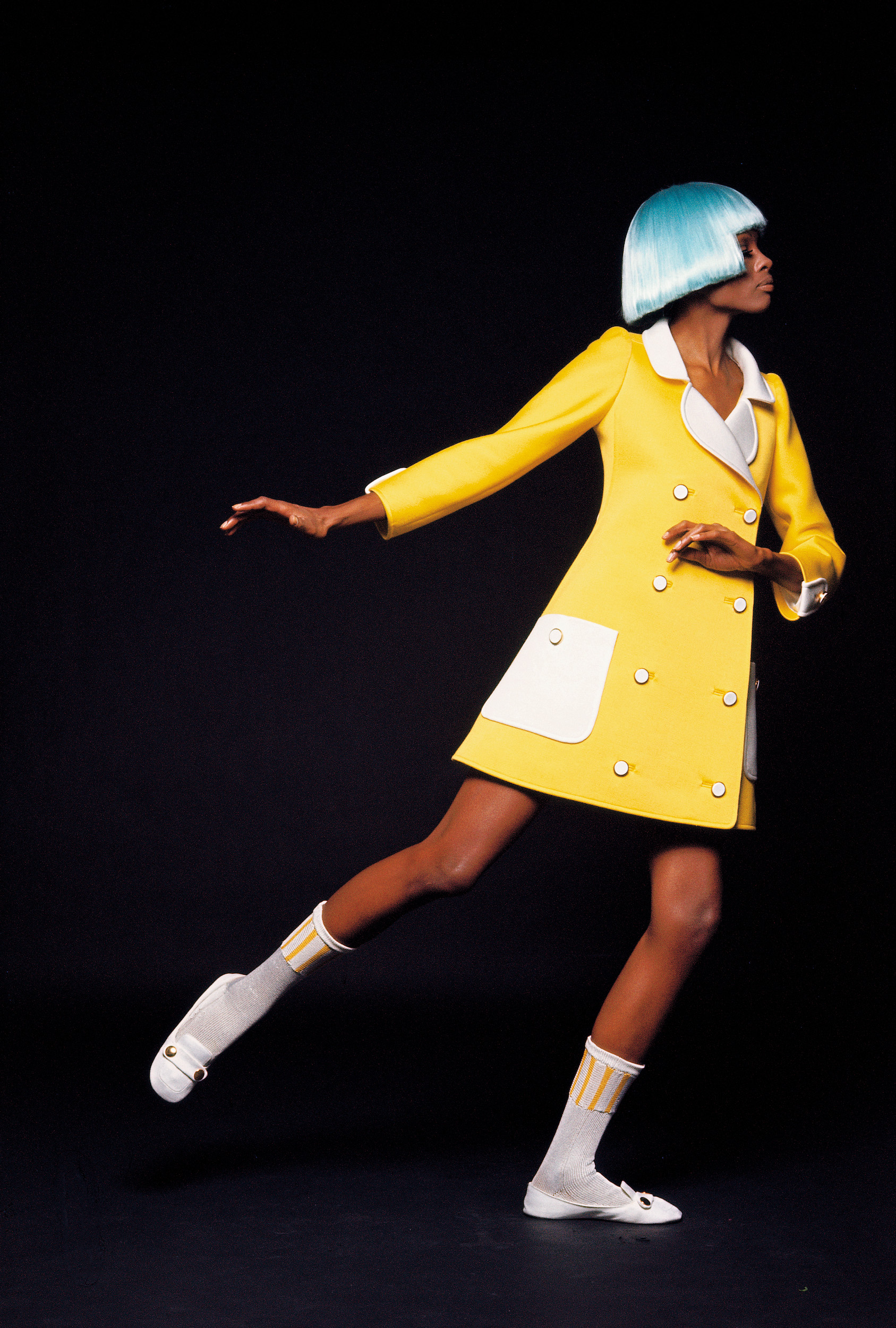 Helmut Newton Elle, Paris 1969 © Helmut Newton Foundation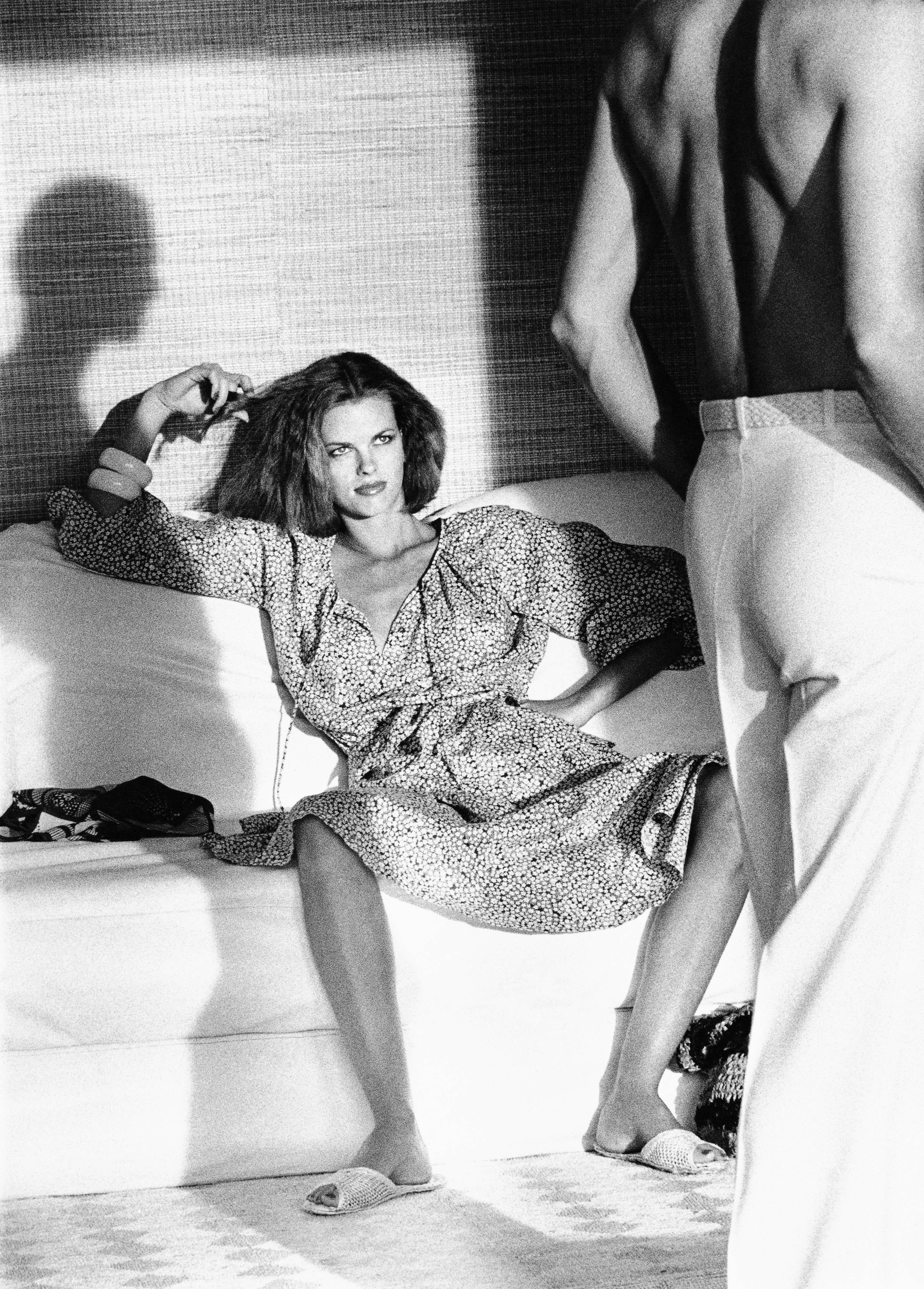 Helmut Newton, Woman examining Man, Calvin Klein, US Vogue, St. Tropez 1975 © Helmut Newton Foundation
Credits
---
All images © Helmut Newton Foundation
https://i-d.vice.com/en_uk/article/v7d4za/helmut-newton-exhibition